'Solution Series' Shafted Roll Stands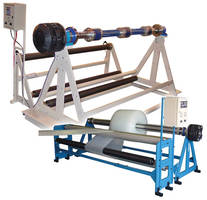 Unwind and rewind stands are preconfigured with all accessories including brakes and shafts

Double E's new line of roll stands range from a simple A-frame with brakes, safety chucks, and a shaft to more complex systems with closed or open loop tension control, and even motorized rewind stands. Every system is custom-applied, and comes pre-assembled with all components in place. Each stand has a warranty as a package from one supplier, and prices for a new Solution Series stand are often lower than comparable used equipment. All components work together for optimal winding control without the hassle of installing each accessory. Stands are configured for various web widths and roll sizes to minimize costs while providing proper loading properties. Stands can be configured for multiple web materials and/or paths for manufacturing flexibility. Double E stocks all non-custom parts and manufactures custom accessories (like shafts) quickly to enable unusually fast lead times on the complete package.

Double E Company,

319 Manley Street,

West Bridgewater, MA 02379.

Tel: (508) 588-8099;

Fax: (508) 580-2915;

email: [email protected];

website: www.doubleeusa.com.