'Out-of-the-Box' Design and Collaboration Double Sales for CE Tools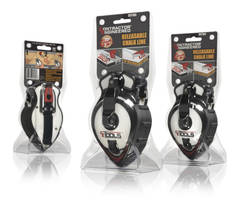 When is a cliché not a cliché? Take the platitude, "Thinking outside the box" and it might just fall on deaf ears. Why? It's something we hear everyday in our business life, and in all honestly – it's easier said than done. Because thinking outside the status quo involves risk-taking as in making a change. So just how far outside of our comfort zones are we willing to brainstorm new ideas? This is especially true in a team situation, where finding consensus can stonewall the best of intentions.
But here's where it can work. Thinking outside the box simply means that you're willing to consider different solutions and methods for reaching a desired outcome. It requires open communication, collaboration and a positive can-do attitude. That's when unleashed creativity gets a seat at the table and innovation has a voice. That's exactly what happened with a recent project between Rohrer and a startup tool company, CE Tools.
CE Tools Takes on the Big Box Names
Being a newcomer to the hardware market, CE Tools had some big competition to face. How do you stand out from the major players with a common tool, such as a chalk line? Well first, you innovate the tool itself, to make it the world's first of its kind with a self-releasing tip. From there it just gets better – featuring high-performance materials and added features like a rubberized grip and an oversized planetary gear system.
But how do you give it star power to outshine the household-name competitors sharing the shelf? Packaging. That's how.
CE Tools launched their unique chalk line tool in 2018 using another packaging vendor. Although the market responded favorably, CE Tools knew they could make a bigger splash. After all, they basically reinvented the wheel when it came to chalk lines. Their problem? They had an uncommon product in a common package. CE Tools needed an innovative package design to really give their new tool the stage presence it deserved on the store shelf.
CE Tools approached several other packaging companies with a wish list of design features. High on their 'must haves' included 1.) a sleek and stylish profile that followed the curves of the tool and 2.) a bottom portion left exposed so consumers could feel the rubberized grip. The feedback was unequivocally "No, that's impossible, we can't do that!"
Then they contacted Rohrer and the response was, "What an exciting project. Let's work together on this." Dan Lemcke, President/CEO of CE Tools stated that this started the beginning of what he called his "dream team" comprised of his own creative director, son Tristan, and Rohrer.
Out-of-the-Box…literally
First, they presented Rohrer with CAD drawings of how they wanted the finished product to look. Because CE Tools had such a clear vision, Rohrer's team simply designed around it. Rohrer suggested a trifold clamshell package that would secure the product between two hinged sheets of 15 PVC plastic. The flanges could either be heat-sealed or snapped together. A clamshell could also provide custom molding to follow the unique profile of the chalk line tool and offer hanging or standalone merchandising options. But would it also allow for an exposed area for the rubberized grip? This was the game-changer. Rohrer's deep design bench had developed packaging with smaller exposed areas in the past.
But CE Tools required a larger area open for customers could literally get their hands around the special grip. Rohrer's designer then suggested an inverted trifold with manual snaps where the seams were on the outside. This "reverse clam shell" allowed for the sides of the product to be exposed, enabling the consumer to touch the rubberized grip. It also provided a snug fit to showcase the tool's unique contours. However, the touch-and-feel area also created less space for the insert card, so the simple solution was to print on both sides. Overall, after a few minor iterations back and forth, production was green lit with no hiccups along the way. CE Tools got their 'wish list' packaging and more in less than a six-month turnaround.
"The sky's the limit!"
The true success story according to CE Tools, was the open collaboration and communication between the two companies. As Dan Lemcke stated, "The real excitement was how everyone listened and respected each other's ideas and skill sets. This is so important when you're trying to design something completely new. The end result…well, the sky's the limit!"
And so far, the skies over CE Tools look very bright. The product with the upgraded packaging re-entered the market at perhaps the worst possible time – in the early spring of the pandemic. And yet, sales doubled. The only difference now was the innovative product had the packaging to match, with 'wow factor' eye and tactile appeal. Customers are immediately drawn to how the plastic fits the curvy contours like a second skin. Upon closer inspection, they can actually touch the rubberized grip. If the customer actually purchases the tool, great! But standing out against the established brands is exactly what this young tool company needs to carve out their own brand identity.
Less production and warehousing costs
Doubled sales is only half of the bottom line to date. The new package design is sleeker and smaller in dimension. This takes up less warehousing space while also allowing CE Tools to buy in bulk. And because the package snaps together, there is no need for costly heat-sealing equipment. Employees simply put the product and package together manually as needed. All of this added up to reduced warehousing, equipment and shipping costs.
'Olympics-worthy' teamwork
Dan described his in-house and Rohrer team as Olympics-worthy. He went on to praise everyone as a hero in their own right, but it was the out-of-the-box teamwork that made this project a stand-out success. So, with this example, CE Tools wasn't 'boxed' in by other vendors who didn't want to work outside their comfort zone. They persevered until they found the right vendor in Rohrer who proved that thinking outside the box is more than just a business cliché. It means approaching problems in new, innovative ways.
More from Labels Tags Signage & Equipment