"NO LIMITS" for Interior Storm Windows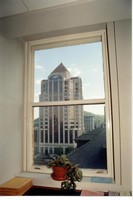 Single-glazed windows need help to achieve important improvements in energy reduction, sound reduction, or sunlight control.

The Magnetic One Lite (MOL) Series of interior storm windows has been developed by Allied Window, Inc. to deal with every conceivable field condition that may exist. The MOL Series can provide fixed, stacked, vertically-operating, or horizontally-operating units.

These "performance panels" are available in standard or custom colors, custom shapes, and for very large openings. Special glazing is available, -up to (1/4"), for sound reduction, light reduction, UV reduction, safety glazing, or security glazing. A wide variety of custom screens can be provided, for interior or exterior installation.

For ease of sunlight control, a remote-control mini-blind system is available which allows tilting of the blind louvers, -without removal of the storm window. This system reduces heat gain, saves energy 24/7, and normally eliminates any blind-cleaning expense.

All Magnetic One Lite (MOL) Series storm windows are designed to adapt to the existing window conditions, -without creating new sight-lines. Allied Window focuses on providing "invisible" storm windows, and has total capability for exterior units as well.

More from Architectural & Civil Engineering Products