"Medical-Grade" Foot Controls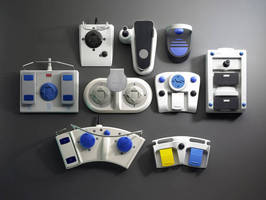 Ridgefield, Connecticut, May 4, 2010 ... STEUTE is pleased to introduce their extensive range of "medicalgrade" foot controls for medical device OEMs. Unlike industrial-grade foot controls which are modified to meet the functional requirements of a medical application, STEUTE's units are expressly designed to address the complete functional, ergonomic and aesthetic needs of the medical OEM's application.

Each of these CE-compliant foot controls is designed to meet relevant IEC 60601, the MDD (93/42/EEC), UL and CSA standards. Optional design features include custom housings/colors/icons, powder-coated consoles, rocker/pushbutton/joystick/footmouse(TM) actuators, analog/digital outputs, durable labels, special connectors/cables, protective shields, foot rests, optimal weight, and IP X8 ratings.

Typical applications include x-ray equipment, laser surgery devices, ultrasonic systems, surgical microscopes, positioning tables, bone saws, high-frequency surgical equipment, dental systems, and arthroscopic surgical systems

For further information and technical literature, contact Maurizio Lauria, STEUTE Meditech, Inc., 901 Ethan Allen Highway, Suite 102, Ridgefield, CT 06877. Telephone: (203) 244-6300. FAX: (203) 894-8065. Website @ www.steuteusa.com.

More from Optics & Photonics