'Made-in-the-USA' Fiber Optic Line Delivers Cost-Effective Performance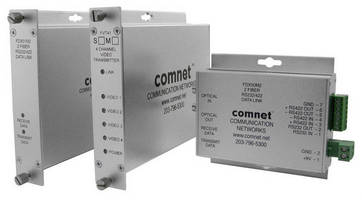 Danbury, CT. April 21, 2010, ComNet, Communication Networks of Danbury, Connecticut, a leading manufacturer of fiber optic transmission and networking equipment, is introducing the ValueLine to satisfy the demand for a cost-effective line of fiber optic and Ethernet transmission products. The line consists of digitally encoded fiber optic video multiplexers, serial data products, Ethernet media converters and a new Ethernet over coaxial cable (VDSL) product. ComNet products including the ValueLine are designed and manufactured in United States and have been released for sale.

"This new product line offers very good performance and the pricing is some of the most competitive ever introduced to the market," states Andrew Acquarulo Jr., ComNet President and COO. "Our unique designs and USA-based manufacturing allows us to gain a very competitive cost advantage and that translates to ComNet being able to offer the significant cost savings ValueLine brings to the market", said Acquarulo.

"Introducing the ComNet lower cost product offering under the ValueLine brand makes sense from a product positioning perspective", commented Frank Haight, ComNet Vice President of Marketing.

"We've introduced a very complete fiber optic solution to the security and ITS markets in a very short time. Our products are innovative, environmentally hardened and offered a very high level of performance at competitive pricing. With this new product line, our customers can be assured of a quality USA manufactured product backed by a lifetime warranty. It's refreshing to know a US company can design and manufacture here in the US and offer a cost-effective product than what's available from lesser known companies or overseas suppliers", Haight concluded.

ComNet is headquartered in Danbury, CT, USA in a state of the art manufacturing and production facility housing the key functions of engineering, production, shipping, sales, customer care, marketing and more. ComNet is an international company with offices located in Leeds in the United Kingdom covering Europe, Africa and Asia, and an office in Dubai covering the Middle East.

For more information, please contact Skip Haight at 203.796.5340; or e-mail ComNet at marketing@comnet.net. You may also find ComNet on the World Wide Web at www.comnet.net. Electronic files of this release and photos of ComNet products are available by contacting the ComNet Marketing Department via e-mail at fhaight@comnet.com.


More from Packaging Products & Equipment