Kalamazoo Industries Model BG448 Multi-Position Belt Grinder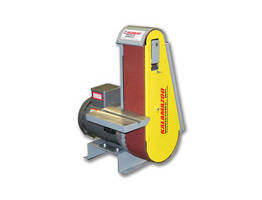 The Kalamazoo Industries model BG448 is a 4" x 48" belt grinder that can be positioned at any point from vertical to horizontal. The high 7200 SPFM belt speed enables quick metal removal with minimal heat. Originally designed to meet a customer's request for custom features, the BG448 is now included in our product line



The BG448 grinder features a 4"W x 10"H work space that allows full work movement from left to right, and a removable platen and work table that converts from slack belt grinding to platen grinding. The unit has spring loaded belt tension, quick belt change, an 8" x 4" serrated 70 duro contact wheel, and a 3HP direct drive motor available in either 110V 1PH or 220V 3PH. The grinder is also available without stand or with a dust collector base.



As with all Kalamazoo Industries machines, the BG448 is made in the USA.



Related