"America First" Certification is based on five factors.
Press Release Summary: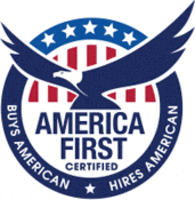 Available to manufacturers, distributors, and service companies, America First certifies businesses that support American-made and sourced products. Other factors evaluated during the review process include percentage of American hires, US-based locations, and taxation. Once certified, companies will receive an "America First" certification seal that can be displayed on their products. 
---
Original Press Release:
First-Ever "America First" Certification Helps U.S. Firms and Consumers Buy American
New program highlights U.S. companies that buy and hire American
Atlanta, GA, April 11, 2017 - Today, AmericaFirstCertification.com launched the new "America First" certification program, allowing businesses large and small to demonstrate their commitment to American products and jobs to their customers, suppliers, and the general public.
Specifically, the "America First" certification enables businesses to inform the public not only that their products are made and sourced in the United States, but also that the jobs, taxes, and wages paid to their U.S. employees help grow the local, regional, and national economies. In return, businesses gain a competitive advantage and more public visibility, as customers can easily identify who buys and hires American.
The "America First" certification program goes even further than the traditional "Made in the U.S.A." labels because it not only rewards businesses that make products domestically, but also those that hire, source, and locate in America - extending beyond the manufacturing sector. "America First" certification further supports American interests by donating 10 percent of all proceeds to the Wounded Warrior Project and other veterans' charities.
To qualify for an "America First" certification, businesses are graded on five key metrics:
People: What percentage of employees are American?
Products: Are products or services made, assembled, or provided in America?
Places: Are offices, plants, and other facilities located in America?
Sourcing: Are parts, materials, and services sourced from other American businesses?
Taxation: Are federal, state, property, and other taxes paid to America?
Certified organizations receive an "America First" certification seal that can be used on their website and marketing materials. They also can receive stickers that can be used on their products and packaging.
The program was conceived by Charlie Bross, an Atlanta entrepreneur who has created certification programs for human resources professionals for more than two decades. "The 'America First' certification program allows businesses that create U.S. jobs and support the American economy to prove their commitment to consumers and their communities," says Bross. "Until now, patriotic American businesses had no way of letting their customers know that they were buying and hiring American, and adding value to the U.S. economy and local communities. This third-party certification program is a credible way to show that commitment and belief in America."
Related