'Go Anywhere Conveyor' from Gough Econ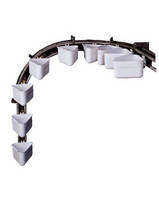 CHARLOTTE, North Carolina USA - A bucket elevator that moves material in three different directions for optimum flexibility in planning a material handling system within a production facility is available from Gough Econ, Inc. of Charlotte, North Carolina USA. Gough Econ is a manufacturer of bulk material handling solutions with an extensive range of bucket elevators for sanitary to tough applications in industries ranging from food to heavy-duty industrial. Gough Econ markets its products and systems in Europe, Asia, Australia and other areas of the world.

The unique multi-axis Gough Elecon(TM) bucket conveyor and elevator system from Gough Econ is ideal for applications requiring gentle handling and industrial applications such as delivering blanks to stamping presses at The Royal Australian Mint in Canberra, Australia.

Known as the 'Go Anywhere Conveyor,' the Gough Elecon(TM) conveyor uses cantilevered buckets that move vertically, horizontally and can turn any direction up to 90o without having to transfer the load being conveyed, making it one of the most flexible systems of its kind in the world. This unique feature lets users fit the conveyor within their production facility instead of modifying their facility to accommodate the material handling system.

The multi-axis capability of the Gough Elecon(TM) is the result of its patented chain
design and the cantilevered wedged shaped buckets that come together and overlap at
the load station. The patented rack and pinion system assures full discharge with a 360o bucket rotation on selection and quick return to the upright position for maximum flexibility.

"The result is a much simpler system with fewer pieces of equipment," noted Andy Leitch, Vice President of Sales for Gough Econ. "It also frees up critical floor space since much of the movement can occur overhead. Because it's so flexible, the Gough Elecon(TM) system can virtually handle unlimited circuit designs and configurations."

Applications in the food industry include handling items such as cereal, coffee/tea, confectionary, pasta, pet food, salt/spices and snack products. Industrial
applications range from handling catalyst to chemicals, fertiliser, metal powders, carbon black, battery powders, coal, sand and coin blanks.

Gough Elecon(TM) Details

Buckets for the Gough Elecon(TM) are made of polypropylene and have a smooth interior surface to eliminate any product trap areas and help provide maximum cleanliness.

Four different bucket configurations are available: Standard, Mid-Size, the specialist Pasta bucket, and the Max-Elecon. The bucket configuration required depends on the throughput and the type of product being conveyed. The Elecon(TM) family of buckets has a capacity from 3,638 cm3 up to 0.0424 cu metres for the Max Elecon.

The Gough Elecon(TM) consists of a heavy-duty proprietary tri-planar chain, a tubular track, and a vertical drive plate for power transfer and chain tension. The chain is
constructed of investment cast Piad alloy links, forged cruciforms and sealed roller bearings.

The chains are assembled individually at the Gough Econ manufacturing facility
to meet precise specifications and to assure high reliability and durability. The chain's
wash through design meets food sanitation requirements.

The tubular track is made of stainless steel and is housed in track plates for easy and smooth gliding of the chain without wear. Plates and tracks are completely interchangeable for easy maintenance.

An optional wheel-turn design instead of a static track can be incorporated at certain points increasing the life of the chain by transferring loads to these wheels.

Multiple cover panel options are available to meet specific needs. Made of folded steel, the panels can be enclosed with steel or Lexan panels or they can be left open with the tubes exposed. Open construction allows for easier cleaning and maintenance whereas the two enclosed cases are appropriate for safety applications or to maintain a controlled environment.

About Gough-Econ

Gough Econ was established in 1974 in the United States as a subsidiary for a UK company founded in 1940. Today, Gough Econ's operations are locally owned with headquarters in Charlotte, North Carolina USA where the design, manufacturing and administrative functions take place.

The company specialises in the design and manufacture of a range of standard
and special engineered material handling systems that move and protect the customer's product. Gough Econ also provides a variety of technical services including product
testing, product engineering, control systems and installation management.

Beside the Gough Elecon(TM) in-line bucket elevators, Gough Econ markets other
products including the Econ-O-Lift(TM) and Swinglink(TM) in line bucket elevators, vibratory screeners and conveyors, belt conveyors, hoppers, tote dumpers, vibratory feeders, bulk bag handling equipment and storage conveyors.

For more information on Gough Elecon(TM) bucket conveyor or other products, services or capabilities, contact Gough Econ at P.O. Box 668583, Charlotte, North Carolina USA. 28266- 8583. Telephone: +(704) 399-4501; FAX +(704) 392-8706 and e- mail sales@goughecon.com. Gough Econ can also be found on the web at www.goughecon.com.

More from Communication Systems & Equipment