$428.00 Savings Off Daimer's Steam Cleaner Popular Among Commercial and Residential Users Alike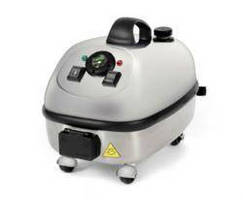 Daimer Industries, Inc.®, the world's most highly recognized American brand of portable steam cleaner machines, including carpet steam cleaner systems, advanced vapor steam cleaners, and rugged industrial steam cleaner equipment, is shipping its wildly popular KleenJet® Pro Plus 300CS vapor steam cleaner at tremendous savings to customers in the over 200 countries to which it currently supplies cleaning equipment. The 300CS is the most sought after products outside of the company's diversified line of steam vacuum cleaner models.

Unlike other machines that use different materials, the Pro Plus dual chamber configuration features a 100% polished stainless steel vapor steamer housing, making the machine the most durable in the industry. The rugged portable steam cleaning machine creates pressurized vapor steam cleaner flow of up to 75 psi while the system generates heat of up to 310ºF. The system heats cold water to steam temperatures in merely seven minutes.

"Everyone looking for the best steam cleaner machines wants the highest-quality product for the money. Times are hard and the economy is continuing to struggle, but cleaning is critical and happens in all economic climates," states Matthew Baratta, Daimer Industries, Inc.® spokesperson. "Daimer® is happy to offer its #1 selling portable steam cleaner at such wonderful savings. Thousands of customers really appreciate the KleenJet® Pro Plus 300CS temperatures up to 310º F and variable pressure levels up to 75 psi. The time is perfect to own one of these commercial steam cleaners."

Daimer®'s commercial steam cleaner is currently purchased for those performing auto detailing, tile and grout cleaning, professional contractor cleaning, bathroom cleaning, house cleaning, commercial floor cleaning, hospital disinfection, floor steam cleaning, and countless other applications. The steam machine is an excellent floor steam cleaner to clean vinyl and linoleum floors, tile and grout, and hard wood, and can be used to clean spots and areas of carpeting. However, vapor steamers are not considered true, high-powered carpet steam cleaner equipment.

Vapor containing only 5% water lacks the adequate moisture and pressure levels to deeply clean carpet. Those seeking to buy powerful carpet cleaning machines should consider Daimer®'s XTreme Power® line of carpet cleaning equipment. The XPH-5900I and XPH-9300 models are extremely popular. The company has shipped thousands to customers worldwide.

Daimer Industries®'s KleenJet® Pro Plus 300CS professional steam cleaner models can function as a car steam cleaner and floor steam cleaner, and a steam cleaning machine to help clean allergens off hard surfaces. Substances like pollen, animal dander, dust mites, and other aggravating particles and build-up can wreak havoc on pets, children, the elderly, and those with allergies, asthma, chemical sensitivities, COPD, and others with mild to severe medical conditions. Even those with cancer need to reduce their exposure to dirt and other substances that can be unhealthy for their condition.

Cleaning hard substances in refrigerators, ovens, dish washing machines, freezers, microwaves, and other appliances is a breeze with the Pro Plus 300CS. Grease, oil, and hardened food, soap scum, and other problematic debris are easy targets for the portable steam cleaner. The professional steam cleaning machine cannot be used to clean mirrors, most hard surface furniture, and most other surfaces in homes and businesses. The machine is ideal auto detailing equipment for those cleaning door jams, vents, vinyl and leather seats, windows and mirrors, wheels, and more.

Daimer Industries®'s KleenJet® Pro Plus 300CS commercial steam cleaner includes the company's important continuous-refill technology along with its patented, proprietary boiler self-cleaning technology. Continuous refill allows anyone to add water into the system's non-pressurized water chamber at any time while the system is powered. The boiler self-regulating technology draws water from the water chamber allows the user to continue working without the need to wait like they must with other vapor steam cleaning machine brands.

The beauty of the Daimer® technology is the boiler maintains a substantial amount of Super-Heated water, and any water extracted from the water chamber creates no drop in boiler water temperature. The user can keep working.

Other non-Daimer® brands require the operator to stop, depressurize the vapor steamer, remove a pressurized cap, add more water, then reheat the system, a process that can take as long as 40 minutes. People using professional steam cleaner machines lack the patience to wait so long. Daimer® makes cleaning easy and fun.

During the company's promotion, the Daimer® Pro Plus 300CS includes free extra bonus items for those buying online. The steam machine comes with a variety of the most popular accessories.

For Additional Information:

Visit Daimer®'s official site www.daimer.com/portable-steam-cleaners/ or contact Matthew Baratta at (888) 507-2220 for more information about the company's products, or specifically the KleenJet® Plus 300CS. The steam machines are available for shipment to most nations globally.

About Daimer Industries, Inc.®:

Daimer Industries, Inc.® is the world's leading brand of high-quality commercial and industrial steam cleaner machines, carpet extractor systems, truck mount carpet cleaning equipment, pressure washer machines, hard surface cleaning equipment, and many other models and technologies for virtually any cleaning applications anywhere.


More from Mechanical Power Transmission