-105˚C FreeZone® Benchtop Freeze Dry System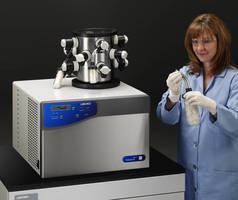 Labconco FreeZone -105°C 4.5 Liter Benchtop Freeze Dry Systems have ice holding capacity for light to moderate loads and have dual refrigeration systems for samples with very low eutectic points including ones containing small amounts of methanol or ethanol. They have a compact benchtop design and include a 12-Port Drying Chamber. A vacuum pump and sample containers, such as flasks, are the only additional components necessary for a complete system.

The freeze dry system removes over 4 liters of water in 24 hours. Features include: brushed stainless steel and epoxy-coated steel exterior; LCD that displays system operating parameters; set-up parameters and alarm messages (choice of temperature in °C and ° F, choice of vacuum in mBar, Pa and Torr); dual 1/3 hp CFC-free refrigeration systems; red alarm light; LED vacuum and temperature wave graphs; patented moisture sensor; vacuum control/break valve; rear-mounted RS-232 port; automatic start-up switch for collector cool-down and vacuum pull-down with manual override switches; retractable collector drain line; power switch; rear-mounted electrical receptacle for vacuum pump connection (pump not included); 3/4" OD vacuum connection; 3/4" ID vacuum hose; and two clamps. Features a 12-port stainless steel drying chamber.

For more information on the complete line of FreeZone Freeze Dry Systems and accessories, call Labconco at 800-732-0031 or download the brochure at www.labconco.com.

More from Controls & Controllers