What You Need to Build a Log Home: A Definitive Guide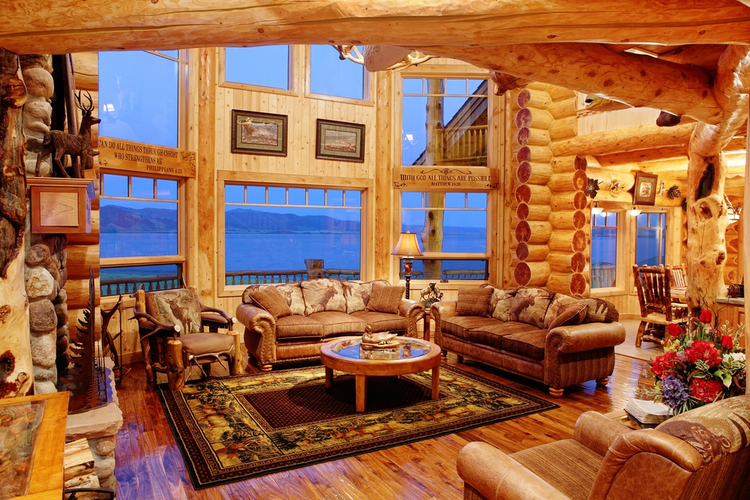 Before You Begin the Log Home Building Process
Log cabins not only offer beautiful, rustic aesthetics and cozy living environments, they also deliver a huge sense of accomplishment to anyone who builds one on their own.
But before getting started on any residential or commercial project, there are several important design and building considerations to keep in mind. In this comprehensive checklist, we'll outline everything you need to know to build your log home.
Floor Plan
First, you'll need to decide on a floor plan. There are a number of predesigned floor plans and construction drawings available, vary in size, style, and complexity depending on the purpose and application of your log home — whether it will be residential, commercial, or completely custom. Some features like windows, for example, are a huge source of heat loss, and something to keep in mind when designing your layout.
Your final floor plan will help you estimate your cost; as a baseline, the average log cabin kit price is about $35 per square foot. There are also additional costs to consider including land, site preparation, permitting, utility lines, and labor. Settling on a location and actually purchasing the land requires thorough research and obtaining of the proper permissions ahead of time.
Before you even break ground, however, you must be proactive about preserving the integrity of your log cabin and avoiding unnecessary costs for repairs down the road. This includes following design and building best practices from the start, paying close attention to detail throughout construction, and even drawing up a schedule to stay on top of routine maintenance tasks.
Now, you're ready for the fun part.
Materials
First, you must choose a wood species that is suitable for the region you are building in. To keep your budget under control and limit shipping costs, you may want to choose a species that is readily available in your area. Some of the most common logs by region are as follows:
East and Northeast — White pine, red pine, and Eastern white cedar
Southeast — White pine, yellow pine, and cypress
Central — White pine, yellow pine, Eastern white cedar, and hardwoods (oak, poplar, walnut)
West and Northwest — Western red cedar, spruce, fir, hemlock, ponderosa, and lodgepole pine
If you want to save even more money (and be eco-friendly), you can choose to use standing dead trees. The low commercial demand for standing dead timber makes it inexpensive — and sometimes even free — and you further the environment by opting not to cut down any more live trees.
Even more important than the species of trees you choose, however, is your logs' energy efficiency, or how well they'll insulate the home. A log's insulating power is measured by its R value. The higher the R value, the better the log will resist heat flow and insulate your home. Additionally, you'll want to carefully assemble the cabin and chink between the logs to prevent any air filtration and draftiness.
Finally, don't forget the maintenance supplies to stay on top of that schedule you made earlier. Some of the most important products include:
Fasteners and sealants
Log oil
Mold buster
Wood stain
Stripper
Brightener
Top coat
Chinking
Borate solution
Log wash
Tools
If you decide to build your cabin on your own, you will need to make sure you have the proper tools. In addition to standard hammers, drills, and saws, required specialty tools include:
Two or more peavey or cant hooks — Peaveys were traditionally used for river drives, while cant hooks turned cants on sawmills. The difference lies in the way the hooks grip the log, but both are suitable for cabin building and, when thrust into the logs, will help you help carry them from one place to another.
Two or more log dogs — These hold the logs in place when you need to scribe, notch, or perform other work on the logs.
Bark peeling spuds — These remove bark from logs very easily.
Four foot auger drill bit — This allows you to bore holes in even the toughest logs.
Medium-sized chainsaw — This will cut, round, and notch your logs.
You will also need heavy-duty equipment for lifting and building your walls, such as:
Boom truck
Telescoping forklift
If you're looking to save money, you might consider using a pioneer-stylee block and tackle to lift your logs instead.
Choosing a Construction Partner and Contracting Log Homes
If you decide to partner with a professional builder to contract your log home, it's crucial to choose one you completely trust. After all, they're going to be helping you build your dream home.
Before making any decisions about a builder, start by visiting an open house or display to see their past work and experience it for yourself. For every builder you're interested in, you should visit at least one of their homes and get at least three references to consult about their experience working with them.
Resources:
Image Credit: B Brown/Shutterstock.com
Related