Wearable Electronics Re-Shaping U.S. Manufacturing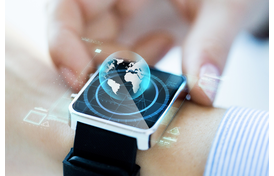 Zebra Technologies, a leading mobile computer and barcoding supplier, recently unveiled the results of their 2017 Manufacturing Vision Study. With the goal of analyzing emerging trends shaping the future of the industry, the study offered insight into how manufacturers are adopting Industrial Internet of Things (IoT) technologies.
Their findings included:
By 2022, 64 percent of manufacturers expect to be operating fully connected plants. This compares to the 43 percent of respondents who feel they currently work in fully-connected plants today. Respondents cited the increased use of RFID, wearables, and automated systems as driving this increase.
50 percent of manufacturers said they plan to adopt wearable technologies by 2022, and 55 percent of current wearable users expect to expand their level of usage over the next five years.
Currently, 62 percent of manufacturers use pen and paper to track manufacturing processes, but the report predicts this will drop to 20 percent by 2022.
63 percent cited tracking and visibility as a core focus, and relying upon a blend of technologies (i.e. barcode scanning, RFID, and real-time location systems) to reach these goals.
51 percent of companies are planning to expand the use of voice technology in the next five years. The most dramatic growth for voice technology will be in companies with more than $1 billion in revenues, with their usage levels reaching 55 percent by 2022.
The report also examined how the increased use of IIoT technologies will impact manufacturing in other parts of the world:
On-demand, cloud, and Software as a Service (SaaS) solutions for Manufacturing Execution Systems (MES) are expected to grow – with 58 percent of North American respondents expecting to use these services in 2022.
51 percent of Latin American manufacturers and 48 percent of Asia-Pacific manufacturers plan to use RFID to optimize production by 2022.
58 percent of Latin American manufacturing executives cite improving quality assurance as their top priority over the next five years.
Companies are focusing less on keeping materials on-hand and depending more on suppliers to provide goods accordingly. In five years, just-in-time shipments will have the highest use in Latin America (42 percent) and the Asia Pacific (40 percent).
Insights
The manufacturing segment's increased use of IIoT technologies, including more wearables and software, is not a surprise. These particular product categories will be key in realizing the efficiencies of a truly connected enterprise. However, these findings are particularly interesting in how they mesh specific areas of investment with particular processes such as quality assurance and inventory management.
Leveraging these tools to improve Just-in-Time (JIT) production strategies and QA/QC will not only help drive a quicker ROI, but will enable these companies to continue making such investments. This will lead to stronger competition in areas of the world that already challenge U.S. manufacturers on price – Asia and Latin America.
Related