Versatile Across Engineering Roles, Arek Gdowski Named NextGen for Industry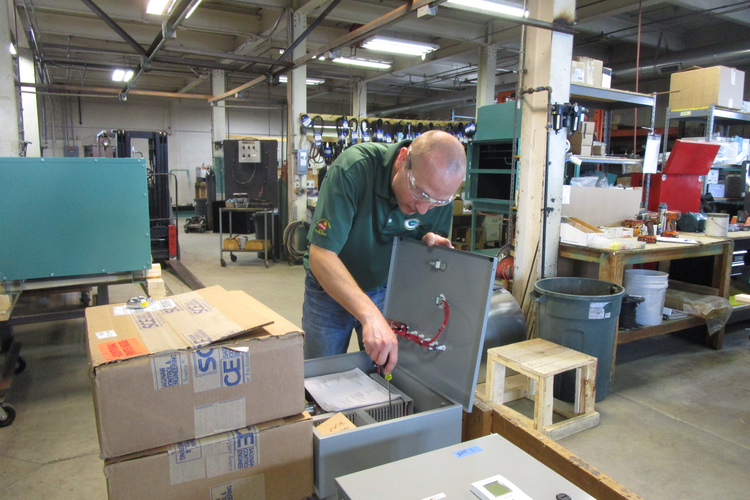 Each month, Thomas will recognize the accomplishments of the next generation of industrial leaders through the NextGen for Industry award. Nominated by their peers or managers, these young professionals are driving industry into the future with innovative new ideas, exceptional thought leadership, and meaningful contributions to their area of business.
This month, Thomas has chosen Arek Gdowski, an engineer at Dehumidifier Corporation of America, Inc. (DCA), a manufacturer of industrial dehumidifiers and dehumidification systems, as the newest NextGen for Industry.

The Chance to See "What a Life Here Would Look Like"
Arek Gdowski is not a stranger to hard work. Originally from Poland, he started his journey in the United States on a J-1 visa, which offers students educational and work opportunities. "Some people might look for a two-week vacation in the Bahamas; I wanted to go to work for four months," he jokes.
While in the United States, Gdowski worked for Quad Graphics, a printing company based in Wisconsin. Despite working demanding 12-hour shifts at the printing press, often with overtime hours, Gdowski deeply appreciated the opportunity. The long hours and hard work offered him "the experience of being in the United States, seeing what a life here looks like," he says.
Gdowski even met his wife during his visa stay in the United States. "That's how this story really started," he explains.
Before his visa expired, Gdowski returned to Poland, where he completed his master's degree in Aeronautical Engineering from the Warsaw University of Technology. When asked about his education, he admits, "My degree sounds hard; it was hard. But it was definitely worth it."
Soon after graduating, he moved back to Wisconsin to pursue an engineering career in the United States.
An "Outside the Box" Role
Gdowski acknowledges that it was initially difficult to find work after returning to the U.S., but he eventually found his first engineering role at his current company, DCA. "I didn't choose the career path, but the career path found me," he says. Gdowski has now been with DCA for more than 10 years.
When asked what the biggest surprise has been in his career so far, Gdowski says he could not have predicted the impact he has on different parts of the business. "You would think you're just going to focus on engineering only, and you're just going to do your one [role] – but it doesn't end there, it goes outside the box," he says. "You quickly understand that you really don't have just one job – you have many."
As an engineer, Gdowski is involved in creating 3D models, wiring diagrams, and selecting and designing components essential to the dehumidifier solutions that DCA manufactures. "I create custom submittals that I send out to the engineers and architects to make sure they're going to receive the right equipment so there will be no errors," Gdowski explained.
Once manufactured, the dehumidifiers are used for various industrial and commercial applications, including indoor swimming pool applications, libraries, water treatment plants, and fitness facilities.
In addition to his engineering responsibilities, Gdowski also handles various I.T. duties for his company. He sets up computer stations for new employees, creates internal software, and even helped develop the company website.
Because of his diverse experience, Gdowski has established himself as a reliable resource for team members across the company. "If there is a question, [the engineers] come to me," he says.
"You Will Fail Many Times Before You Succeed"
For engineers early in their careers, Gdowski advises, "Be dedicated, work hard, and that will bring results. Don't be afraid to speak out and say your new ideas, because many of the things I thought were just an idea that came to mind suddenly became a reality.
"Take that step and don't be afraid," he says. "Don't be afraid of failure, because you will fail many times before you succeed."
To truly be effective in an engineering role – or any professional role – Gdowski also emphasizes the importance of focus. "You've got to take one project at a time. The brain can't focus on many things; there's no such thing as multitasking," he explains. "You have to focus on one thing, finish that one, and then move to the next one."
Gdowski recommends connecting with mentors and other team members who can guide you as you learn the ropes in a new role. At DCA and other industrial companies, "there are people here that will guide you. There are people here that will teach you," he says.
Most importantly, find a company that you enjoy working for. "I love coming here every day. The rewarding part is working with people who appreciate you," Gdowski says of DCA. "The connections between every part of our business make it easy as well, because everybody is trying to help everybody else. Nobody is trying to work against somebody else; we're working together as a team."
Image Credit: Provided
Related