Value Chains vs. Supply Chains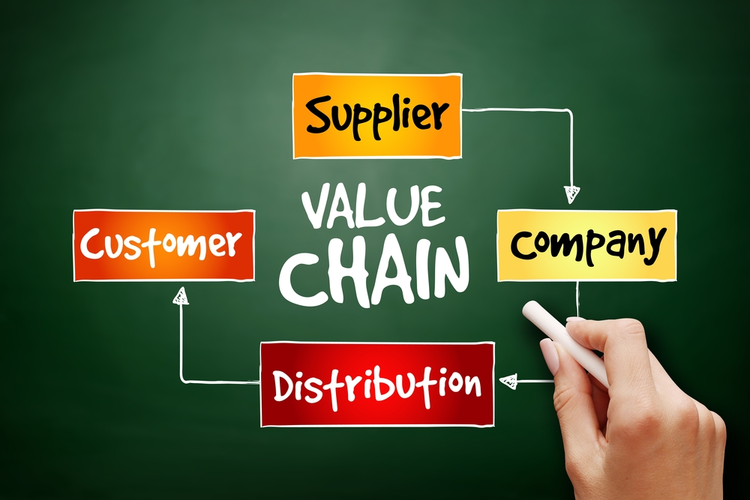 Interconnections. Logistics. Conversions. When we start talking about the integrated systems and processes that form modern supply chains, no aspect or actor can be discounted. The full spectrum of business operation — sourcing, procurement, conversion, and logistics — directly affects how our goods and services find their way to a final destination.
The nuances of these supply chains impact every product on the market, from lobsters to Lamborghinis. As demand continues to grow and new technology disrupts the market daily, the question for supply chain management is no longer whether systems will change, but how. And that's where the rich potential of modern value chains makes all the difference.
What Is a Supply Chain?
The concept of a supply chain is relatively simple, though its execution may not be. Supply chains are based in processing; creating, manufacturing, stocking, transporting, and selling are all key aspects of a supply chain.
By definition, a supply chain incorporates every step of a company's function, from receiving to filling customer requests. A supply chain comprises the sequence of processes by which businesses produce and distribute commodities. Every team in a company is part of the supply chain: product development, sales and marketing, operational management, distribution, and even finance and customer service.
While specific procedure and the management strategy behind it vary dramatically from industry to industry — and company to company — the flow can typically be broken down into five essential elements:
Creating, planning, developing, designing, and troubleshooting new products
Sourcing the fundamental parts, materials, and components for manufacturing
Manufacturing and production
Storage and delivery, whether in a brick-and-mortar retail setting or online
Customer management and returns
Some supply chains even create circular systems, establishing easy steps for consumers to recycle, resell, or reinvent a product after its original use is exhausted.
What Is a Value Chain?
A value chain also relies on the process of creating a product and satisfying a customer — in fact, a value chain incorporates the same elements as a supply chain. However, the key emphasis of a value chain is not simply executing; instead, it's centered on creating a competitive advantage.
A value chain can be broken down into five steps very similar to those involved in the supply chain, but with a different focus:
Inbound logistics, including receiving, inventory management, and sourcing
Operations, or making the product
Outbound logistics, including shipping, packaging, and delivery
Sales and marketing (connecting with buyers)
Support and service
In the value chain, every step of the process centers on a single goal: Increase value to the customer, or increase the company's advantage in the marketplace. Either way, all involved parties benefit.
Blockchain Reaction
We're working in fascinating times. Supply chain management tools are advancing rapidly, and trends shift every day. We're talking drones, electric trucks, and self-driving vehicles, and that's just in the last mile of delivery!
The challenges presented by the value chain require savvy analysis and a willingness to remain nimble; today's suppliers must do more than simply deliver or upgrade their services, they must also strategize how to do so in the best possible way. Sometimes this means outsourcing when it's least expected, or investing in new analytics to streamline everyday tasks.
The Value in the Value Chain
Embracing the value chain allows for the creation of systems that can handle complex operations beyond basic logistics. But first, it's crucial to develop a solid understanding of how supply chains differ from value chains.
Image Credit: dizdain/Shutterstock.com
Related