Uphoff Describes Challenges Facing Industry at White House Roundtable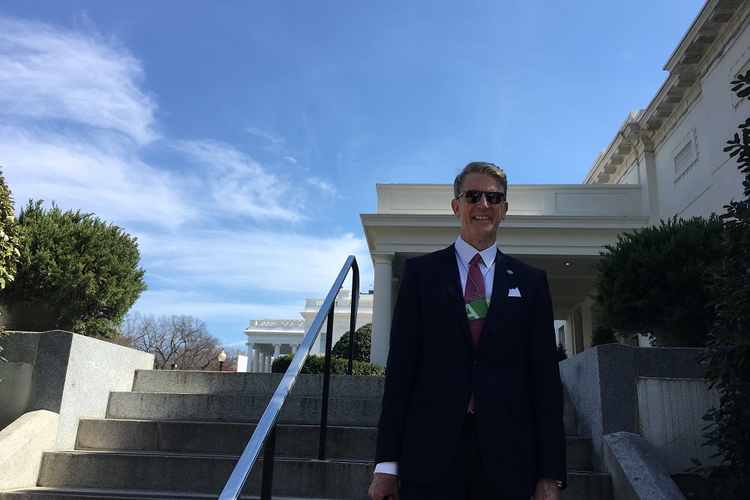 Last week, on March 14, Thomas President and CEO Tony Uphoff was invited to join a manufacturing roundtable at the White House. Bringing together industry leaders from a range of different fields as well as government officials, the event focused on the issues facing industry and manufacturing today.
Supporting industry since 1898, Thomas is uniquely positioned to provide insights into the state of industry as it shifts and evolves in today's increasingly interconnected, digitalized world. In fact, as Uphoff discussed at the roundtable, "Every 2 seconds someone uses Thomas to select a product or supplier."
Noting that the manufacturing industry has been experiencing significant growth in recent years, both in terms of output and job growth, Uphoff outlined four key issues industrial professionals are grappling with today:
The public's misperception of the state of U.S. manufacturing
The impact of the digital revolution on industrial marketing, supply chains, and sales
International trade trends
The dynamics of the multigenerational workforce and the effect of the growing skills gap
1. The Public's Misperception of the State of U.S. Manufacturing
With the manufacturing sector facing a shortage of up to 2 million skilled workers over the next decade and media coverage of the persisting skills gap increasing, many people not directly involved in the world of industry mistakenly believe that U.S. manufacturing is in trouble.
Even if people don't think that industry is failing, they often retain outdated perceptions of the manufacturing sector, picturing dirty, dark, and dangerous machine shops filled with underpaid workers.
In a recent Thomas survey of more than 1,000 American adults from various backgrounds, three in four respondents said they were "very" or "somewhat familiar" with manufacturing, yet 55% believed that the U.S. manufacturing industry was "stable but weak" or "declining."
However, this stands in stark contrast from data gathered by the Bureau of Labor Statistics, which points to a booming manufacturing sphere.
In fact, the Manufacturers Alliance for Productivity and Innovation Foundation (MAPI) expects the field to grow faster than the overall U.S. economy in 2019, with production increasing 2.8% from 2018 to 2021. Yet many Americans simply "don't know that manufacturing is growing," Uphoff said.
With only half of the Thomas survey respondents saying that they would describe the manufacturing sector as "high tech" — despite the fact that Industry 4.0 is creating a huge need for tech-savvy workers — managers and business owners are looking for ways to better attract the younger generations to the industrial sphere and create a more welcoming space for women and minorities. In the traditionally male-dominated trucking sector, for example, which is experiencing a serious shortage of drivers, this has become imperative.
2. The Impact of Digital on Industrial Marketing, Supply Chains, and Sales
As industry continues to evolve, the technologies and tools available for optimizing operations and processes continue to advance. Companies across the U.S. are navigating an entirely new industrial landscape.
The digital transformation is affecting all areas of business, from sales and marketing to supply chain and logistics. To stay ahead of the curve — and ensure they remain relevant in today's quickly shifting industrial sphere — companies must adapt and attract the tech-savvy talent they need.
"While many U.S. manufacturers have adopted new technologies on their factory floors," Uphoff noted, "many haven't yet adopted the new digital technologies in their sales, marketing, and supply chain management that will allow them to remain competitive in the domestic and global marketplace."
As new technologies, tools, and capabilities such as blockchain, artificial intelligence, robotics and automation, data analytics, and digital twins change the face of industry, businesses have a huge range of options at their disposal to streamline processes, enhance sustainability, and boost their bottom lines.
Supply chains are being increasingly transparent, and modern consumers are demanding more from the companies with which they do business — high sustainability, greater social responsibility, and the ability to trace products' origin quickly and easily.
Marketing and sales, meanwhile, have seen major changes over the past decade, with PPC, SEO, social, display and search ads, and content marketing trends shifting seemingly every day.
As B2B purchasing habits shift, keeping up with these trends is paramount. The inbound marketing method, for instance, is changing the way companies reach buyers, providing them with directly useful, quality content that speaks to their exact needs.
Navigating these changes can be daunting, however, and some "old-school" companies are unsure where to start. Resistance to change is normal, but in this case, it pays to adapt.
As Uphoff noted, simply keeping the conversation going and connecting with others in the field can be invaluable. "This roundtable spurred great discussion between the government and industry leaders on what can be done to support businesses that need guidance in making that shift," he said.
3. International Trade Trends
As the United States' trade war with China drags on, industry leaders are on high alert for any changes in the international trade landscape. Although the manufacturing sector is still seeing significant growth, new data suggests that the trade war is impacting the U.S. manufacturing industry, leading to concerns over costs and sourcing strategies.
The steel and aluminum tariffs, in particular, have rattled industry, spurring many companies to find alternatives for material sourcing needs. In a recent update from U.S. Trade Representative Robert Lighthizer, the U.S. is working on a plan to lift tariffs from Mexican and Canadian steel while retaining the gains that domestic producers have already seen a result of the duties.
In the agricultural sector, soybean farmers have seen serious losses; prior to the tariffs, China bought $12 billion worth of soybeans annually from U.S. farmers. Today, trade has nearly ceased. The U.S. government expects that farmers will have about $8 billion worth of last year's soybeans in storage when harvesting begins for the next crop.
As companies seek to better understand the ongoing trade war and find solutions that provide security and stability for their business, keeping ahead of opportunities for international growth and continuing to self-educate on today's key trade issues can make all the difference.
To that end, Thomas has been working with the Department of Commerce ITA to facilitate dialogue.
"Many of the suppliers we're proud to list as Thomas customers have expressed that they would like to expand their businesses on a global scale," Uphoff said. "In addition to the solutions we offer to help those businesses grow, Thomas will continue to work closely with the Department to promote their export trade programs and provide opportunity for all American manufacturers."
4. Addressing the Skills Gap and Managing Multigenerational Workforces
As millennials and Gen Z make up an increasingly large portion of the workforce, leaders across industry — no matter what their age — are figuring out how to best manage these forward-thinking, tech-savvy employees.
As of 2017, Uphoff said, "There [was] an equal number of millennials in the workplace as baby boomers. This is forcing companies to adapt to a multigenerational workforce with far broader demographic stretch than they've seen before."
Millennials are shaking up the way businesses — and industry as a whole — operate. More than past generations, millennials tend to seek flexibility in the workplace, even over 401K and bonus incentives. To attract the talent that manufacturing and industrial companies need, many businesses have reevaluated their benefits and pay packages, in addition to improving overall company culture.
In the face of the growing skills gap, maximizing employee satisfaction and knowing how to attract the right candidates has become especially important. Many industrial companies are now looking into nontraditional recruitment practices and learning how to better "sell" their organizations in a bid to attract millennials to the manufacturing sphere and shift public perception of the field.
Supporting U.S. Industry and Manufacturing as We Move Into the Future
As U.S. manufacturing continues to evolve, the challenges facing industrial professionals evolve as well.
The recent manufacturing roundtable, organized by the White House Office of Public Liaison, Department of Commerce International Trade Administration (ITA) and the Small Business Administration (SBA), provided the opportunity for some of today's leading industry players to connect with one another, share their experiences and insights, and compare notes as we move into the future.
"This was a great opportunity to share what our data shows on manufacturing and industrial trends with senior government leaders and to illuminate some of the key challenges our industry is working to overcome," said Uphoff.
"These types of discussions go a long way toward shaping America's perception of manufacturing. They provide real examples and identify what is being done by leading U.S. manufacturers to continue the growth in this sector."
Image Credit: Thomas
Related