Understanding Explosion-Proof Motor Classifications
Welcome to Thomas Insights — every day, we publish the latest news and analysis to keep our readers up to date on what's happening in industry. Sign up here to get the day's top stories delivered straight to your inbox.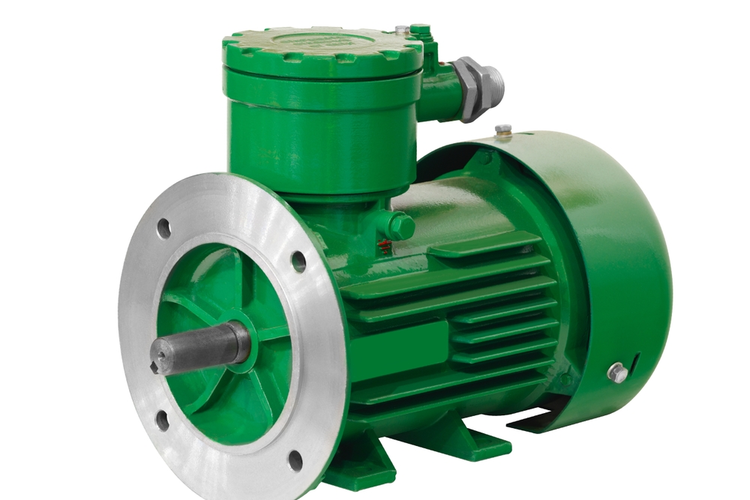 According to the National Fire Protection Association (NFPA), 37,000 fires and explosions occur on industrial properties every year. The majority of these mishaps can be traced to malfunctioning equipment.
Electric motors, for instance, involve moving parts that generate heat and can cause arcing or sparking when overworked, posing serious fire hazards. Explosion-proof motors and hazardous location motors are specifically designed to eliminate these risks.
But not all explosion-proof electric motors can handle flammable matter in the same capacity. And simply because a motor operates in a hazardous location, the motor is not necessarily explosion-proof.
This quick guide breaks down what qualifies as an explosion-proof motor, outlines the various classifications for hazardous locations, and provides a simple five-step approach for choosing the best motor to meet specific application needs.
What Is an Explosion-Proof Motor?
There are two scenarios in which an electric motor can cause an explosion:
The surface temperature of the electric motor increases due to heating that occurs to match the ignition temperature of the flammable matter that has accumulated in the factory or the industrial structure, causing a spontaneous explosion.

The electric motor sparks as a result of an anomaly that causes an explosion within the casing. This explosion becomes the catalyst that ignites the incendiary dust or liquid in the factory, resulting in a bigger explosion.
An electric motor is considered explosion-proof when it is capable of containing an internal explosion without rupturing and putting the entire industrial facility at risk.
Though the terms "explosion-proof motor" and "hazardous location motor" are often used interchangeably, there are key differences that become evident once the divisions and classes of operating spaces are carefully analyzed.
Types of Hazardous Locations and Groups of Inflammable Materials
Division: Location
Division I — A Division I location is hazardous even in normal conditions. Flammable particulate matter or incendiary liquids are produced, and they accumulate as a result of the execution of manufacturing processes.

Division II — A Division II location becomes hazardous in abnormal conditions. If there is a rupture, burst, or leak resulting in spillage or seepage of inflammable substances, then the area is considered a Division II property.
Class: Location
Class I — Class I locations contain gases and vapors that are known to auto-ignite and cause explosions. Gasoline and acetylene are common examples of such vapors.

Class II — Class II locations involve the presence of flammable dust, like grain and coal, in the environment.

Class III — Class III locations involve the presence of flammable fibers, such as textile and wood shavings.
Groups: Type of Principal Flammable Agent
Groups A to D — Acetylene, hydrogen, ethylene, and acetone are some of the gases and vapors that belong to these groups.

Groups E to G — Covering aluminum, coal, corn, and sugar, these groups only pertain to flammable particulate matter.
Classifications and Standards for Hazardous Location Motors: A Five-Step Selection Guide
Choosing the right hazardous location motor can be a daunting task. But the following guidelines can help users zero in on the specific type of motor construction they need to ensure the safety of their property and location.
Identify the division and class of your property. Local safety authorities can usually assist in this process.

If you are a Division I, Class I location, you need a proper explosion-proof electric motor. It should be fully capable of confining the effects of an internal explosion, as the slightest exposure to sparks can auto-ignite the flammable vapors in the atmosphere. Motors with tighter joints and longer flame paths cool escaping flames, allowing them to be extinguished.

If you are a Division I, Class II location, it's a good idea to choose an electric motor with a casing that keeps the surface relatively cool. These motors have bearing dust seals.

It is more important to identify the class of your location, as opposed to the division. By default, all Division I equipment will also serve Division II requirements. Motors that serve Division II locations are generally referred to as hazardous location motors — motors that can handle anomalous hazardous situations.

UL is the only safety agency recognized for the approval of motors in hazardous locations. However, this body doesn't offer any evaluation standards for:
Motors that can run in Division I, Class I, Groups A and B locations

Motors that run in Division II locations

Motors that run in Class III locations
A vendor claiming UL approval for such equipment shouldn't be trusted.
The Importance of Fully Grasping Motor Classifications
Knowing the division, class, and group of your property is crucial for ensuring you choose a well-suited motor that will improve productivity without introducing the danger of explosions. Likewise, fully understanding hazardous location and explosion-proof motor standards will greatly reduce the risk of accidents and injuries.
More cautious users may also explore the auto-ignition temperatures of their flammables and put in place cooling systems or ventilation machines, which keep heating in check and prevent the buildup of incendiary material in enclosed spaces.
Resources:
Image Credit: Matveev Aleksandr/Shutterstock.com
Related