Thomas to Award Industry Leaders in 2 New Recognition Programs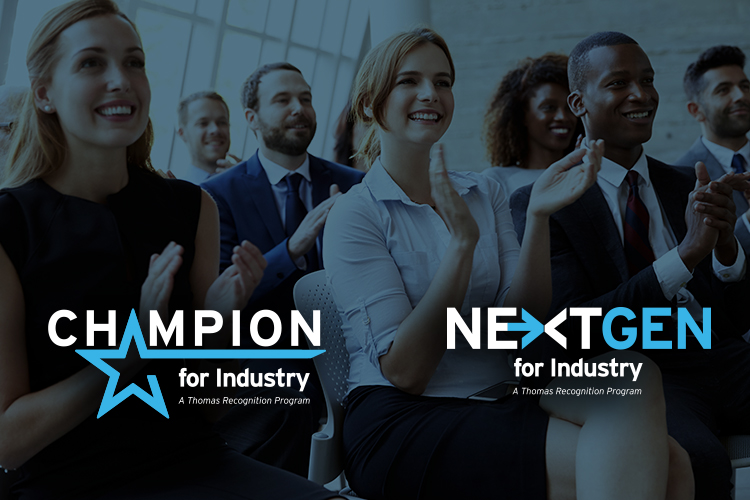 No industry or business can succeed without the work of innovative, forward-thinking leaders at the helm.
To recognize the professionals propelling the manufacturing and industrial sector into the future, Thomas has announced the launch of two new awards: NextGen for Industry, designed to highlight the accomplishments of young and emerging professionals, and Champion for Industry, which will recognize outstanding industry leaders.
Every month throughout 2019, Thomas will highlight the two award winners' achievements, recognizing a total of 24 winners annually - 12 winners for each award.
NextGen for Industry Award
To be considered for the Thomas NextGen for Industry award, candidates must be under the age of 35 and have proven track records of:
Outstanding achievements and skills
Superior, innovative problem-solving abilities
Progressive work attitudes
Strong work ethics
Meaningful contributions to their community or corporate sustainability
The length of time that candidates have held their positions will also be taken into account, as well as any relevant association affiliations or professional recognition.
All candidates must be nominated by a peer, superior, or mentor. Anyone in industry can be considered, whether their role is in MRO, logistics, marketing, or engineering.
Champion for Industry Award
The Thomas Champion for Industry award is designed to recognize outstanding company leaders and managers in the manufacturing sector. This is open to nominees of all ages, from companies of all sizes. As with NextGen for Industry, the Champion for Industry recognition will be awarded monthly beginning in January 2019.
The Champion for Industry awards will recognize leaders who:
Exhibit innovative leadership techniques
Drive company growth
Show an inventive use of technology
Take a new approach to business
Candidates will also be evaluated based on their company's overall workplace environment — in other words, how they bring about collaborative and innovation, and how they support and motivate employees.
Ready to nominate an outstanding colleague?
Submit your NextGen for Industry nominations here or submit a Champion for Industry nomination here.
Related