The Year-End Survey Results Are In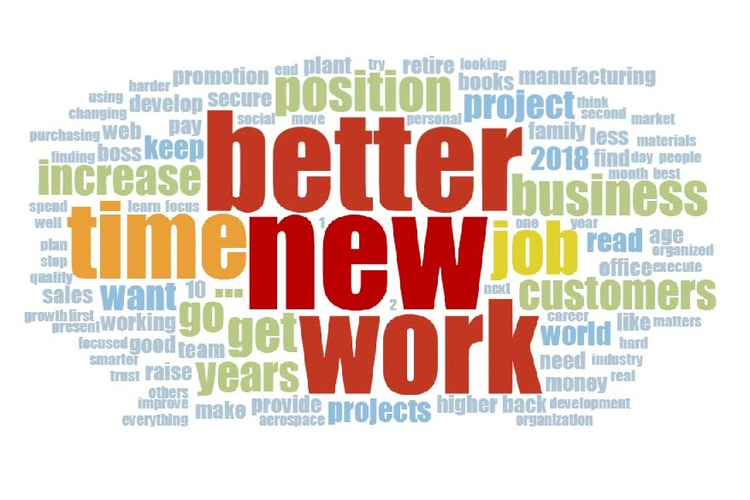 For our survey on your New (Work) Year's Resolutions, we received over 100 responses from across North America and a few overseas. Here's what you told us.
The survey responses received came in from across the spectrum of job functions, with Sales & Marketing leading at around 36%, followed by Engineering at 24%. The overall breakdown is shown below:
Sales/Marketing (35.6%)
Engineering (24%)
General Management (23.1%)
Other (10.6%)
Purchasing/Supply Chain (6.7%)
A New Job is Tops
The top overall resolution for 2018 was to obtain a new job. Almost 14% of all responses cited this as their objective. With the economy strong, unemployment low, and the prospects for further growth to occur - fueled in part by the passage of the tax reform bill - 2018 should be a good year to seek out new opportunities.
The healthy economic conditions should also bode well for another top resolution - growing sales and business opportunities. At the number 2 position in resolutions, 11% of the responses cited growing sales, increasing revenues, adding more customers, or expanding the business to new vertical markets as their top work resolution in the new year.
The third and fourth highest responses (tied at 11% of the responses) were process-related themes. The first of these was a resolution to change or improve business processes, with specific mentions of inventory control, data recording, manufacturing procedures, and purchasing processes. On a more personal basis was a desire to improve time management or organizational skills. One engineer summed this up by saying "…keep my desk clean and free of clutter and paper." I can sympathize – you should see my desk.
Coming in at number 5 was the resolution to improve or advance in their current role or position. So rather than seeking out a new external opportunity, these respondents (8.6%) are looking to grow within their current jobs. One sales & marketing professional resolved to shift to a higher gear and learn more about their customer and prospect base, and another wants to advance to be the company web guru. A related resolution to the goal of advancement was the theme of training or furthering one's education. About 4% of respondents had this as a goal, with responses ranging from learning to type using all ten fingers, to obtaining a master's degree in marketing. In fact, among procurement professionals, education and training made the top 5 list of resolutions.
Show me the money
Wanting to increase compensation and earn more money did make the list, but it came in at 6% of the overall response rate, landing it at position 6. It moved up a notch to position 5 for both engineering and sales & marketing responses and made it to number 4 for procurement professionals. A healthy economy and tight job market should help with the achievement of this goal, as employers compete for talent while they seek to expand operations or replace staff. More money in 2018 seems to be in the cards for at least some employees at larger organizations. Last week, both AT&T and Comcast announced that they would be issuing $1,000 bonuses to hundreds of thousands of their workers based on the tax reform bill lowering the corporate tax rate to 21%, and other companies including Boeing and Wells Fargo have also made similar pledges. So maybe this resolution is closer to becoming a reality, at least for some workers.
The other 40%
While the top 60% of responses landed in the six resolutions outlined above, there were a few other ideas from the other 40% worth mentioning.
A few of you spoke of a desire for more self-focus, and relating to that a goal for a better work/life balance. While we may enjoy work and get much out of the day-to-day challenges and the interactions with colleagues and customers, taking care of one's self is essential to maintain focus and creativity. Time away from the office spent in leisure activities is important to maintain one's productivity - which, by the way, made the list in position 8.
Several of you also mentioned building better communications. Relating to that was a desire to "encourage others" and "build team trust." Good ideas to carry into the new year.
A few of you are planning to hire and train your replacement, and then retire or move on to new adventures such as starting a new business. That is great news for you, but also for others in our survey who are seeking new opportunities, or for the one or two of you who indicated that you planned to return to work from retirement.
Thanks to all of you who took the time to participate in our year-end survey - may your resolutions become realities in 2018.
It should be another exciting year for the U.S. economy at large and manufacturing. We look forward to covering it for you.
Happy New Year.
Related