The Role of Augmented Reality in Industry 4.0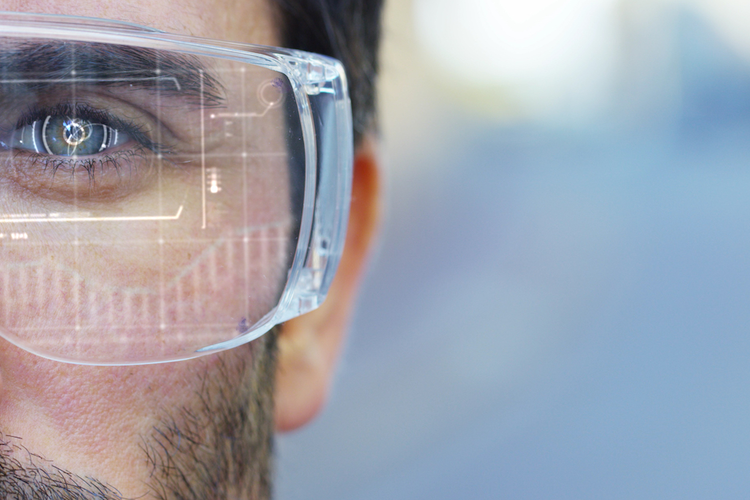 Upskill is a leading supplier of enterprise-level augmented reality (AR) software. Recently, the company announced a new product, Skylight, which works in concert with Microsoft's HoloLens AR headset. Upskill feels that Skylight for HoloLens delivers a mixed-reality experience that is particularly relevant for hands-on workers completing complex tasks in the manufacturing sphere.
We recently sat down with Jay Kim, Upskill's chief strategy officer, to discuss AR and its potential impact on manufacturing and Industry 4.0 initiatives.
Jeff Reinke: Can you offer a little background about Upskill and what drove the desire to enter the AR field?
Jay Kim: Upskill began in 2010 as a software company working with augmented reality technology for the military. Back then, they were the only users that had access to smart glasses. The applications that were developed at the time helped soldiers connect with the digital systems containing mission-critical information and access it heads-up and hands-free.
Our vision from the very beginning was that this core benefit of AR would apply broadly, particularly for industrial applications where the same need for real-time connectivity to the digital enterprise for the hands-on workers exists. The release of Google Glass and the Epson Moverio smart glasses in 2012 enabled Upskill to deliver on this vision.
JR: With these types of platforms, manufacturers typically have three primary questions. The first is: How do I justify the investment?
JK: For the last three decades, manufacturers have spent billions of dollars in process automation technology investments to digitally transform their front-office and back-office operations. Today, these investments are often constrained by the fact that the workforce making, servicing, and moving products [is] often interacting with these systems on paper.
AR platform investments should not be seen as another iteration of ERP or PLM projects, but an extension of those systems to the hands-on workforce. Through a simple elimination of paper-driven processes through a real-time connection between the workforce and the rest of the digital enterprise, and with each other for instant collaboration, businesses are reporting double-digit percentage gains in productivity. Once in production, the payback period is measured in weeks and months, not years.
JR: Second: How long will it take to train my maintenance techs, and what types of training resources are provided?
JK: A typical onboarding session for Skylight users is one to four hours of classroom and on-the-job training to become familiar with the smart glasses, properly fitting them, and navigating the user interface. Training is performed using a mixture of self-service materials, on-site visits by Upskill personnel and/or our partners, and remote training. We incorporate a train-the-trainer model so that enterprises can become self-sufficient in onboarding [their] own workforce beyond the first few sessions.
JR: Third: While younger or less experienced maintenance and operations workers will probably embrace the technology, the more experienced might be resistant. How do I get buy-in?
JK: We have been pleasantly surprised to see a very positive reception amongst the more experienced workers. Two examples stick out:
Factory line workers working to lay up wires on a formboard to build wire harness assemblies reported excitement around the fact that voice-controlled interfaces on a heads-up display made their jobs easier by not having to fumble with large stacks of paper and flip through pages. These are complicated build processes where working from memory is both difficult and discouraged due to the quality defects it may introduce.
Another example involves expert field service technicians with 20+ years of experience whose jobs have been transformed to provide remote assistance and expertise to on-site technicians, which drastically reduced the need for them to travel. Their knees and backs feel better at the end of the day because the physically strenuous part of their job has been reduced. For some, this has extended their careers beyond their natural retirement ages.
JR: What have been some of your challenges in getting the platform to market?
JK: The biggest challenges in our product development involve keeping pace with the breakneck speed of AR technology and ecosystem development, ensuring that every feature we deliver will work seamlessly in any of our supported devices, supporting a global network of partners and users, and ensuring that we deliver the most secure platform in industrial AR. Fortunately, our eight years of history, ancient by AR industry standards, means we have these challenges well under control.
JR: What do you feel sets your offering apart from other AR platforms?
JK: Skylight is hardware-agnostic, meaning it can be deployed across the AR device landscape. This includes assisted reality on smart glasses, mixed reality on Microsoft HoloLens, and remote assistance on mobile devices. Thus, our customers are free to select the device — or a mix of devices — that is most appropriate for their use case and job requirements.
By taking a platform approach, we are helping customers "future-proof" their AR investments and quickly take advantage of new AR technologies as they come to market. This will help them more easily scale their solutions across their business and focus on what really matters for their bottom line. Notably, we are also deployment-environment agnostic, allowing a total closed-loop, on-premise installation, as well as multi-tenant public cloud-hosted instances. Skylight is deployed in regulated industries where security is critically important, and we are proud to have passed every IT security audit.
JR: AR is projected to be a key aspect of Industry 4.0. What other technologies do you think will play a key role?
JK: We view Industry 4.0 technologies in two different buckets — enhancements to current processes and the infrastructure to enable them. Artificial intelligence, enabled by machine learning delivered on cloud, will play a key role in every aspect of industrial work, ranging from analytics-driven predictive maintenance, inventory management, and enhancing user interfaces through the use of computer vision and natural language processing.
Robotics and automation will also have a huge impact in taking away the dirty, dangerous, and demeaning jobs, first and foremost. Co-bots, or collaborative robots, in conjunction with low-latency and high-speed connectivity such as 5G and next-generation Wi-Fi, will further give the human workforce superpowers and create an environment where people are working with robots, and not one or the other.
For more information, visit Upskill's website or email the team at info@upskill.io.
Image credit: HQuality / Shutterstock.com
Related