The Power of Plastics Allows Exoskeleton to Reduce Worker Fatigue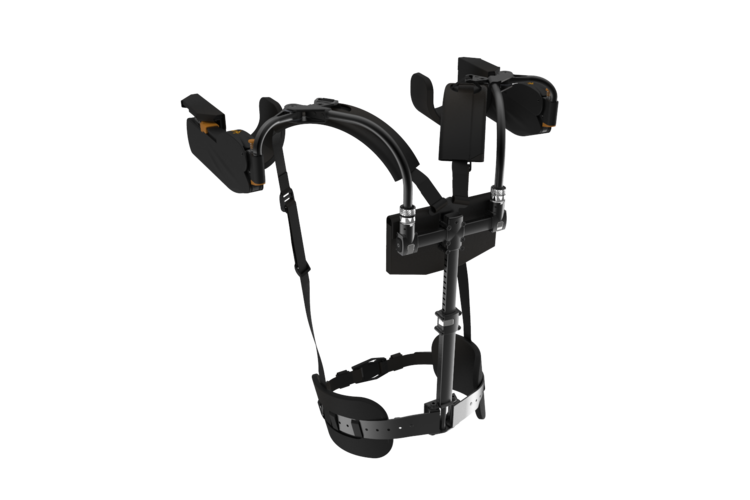 While robotics and automation continue to infiltrate United States manufacturing, there are still jobs that require human hands. Keeping workers healthy, especially those that perform repetitive motion and face stationary arm elevation, has been a challenging task for industry executives.
This is where a new, lightweight exoskeleton manufactured by Levitate Technologies in San Diego, California could provide an answer to worker fatigue. Currently being tested by large automotive (BMW) and aircraft manufacturing firms, the Airframe offers a lightweight, low profile option that, according to users, doesn't restrict motion.
The Airframe uses 32 engineered plastic bearings from Igus. These self-lubricating bearings are considered lighter and more durable than traditional options, adding to the exoskeleton's beneficial composition. This bushing is used frequently in automotive, construction, agricultural machine, and mechatronics applications.
The Airframe is designed similarly to a backpack and can be adjusted to almost any body size with an adjustable frame and straps. The design is in response to work-related musculoskeletal disorders causing $50 billion in lost productivity annually in the United States, and accounting for nearly 70 million physician office visits each year, according to the Centers for Disease Control and Prevention. Mark Doyle began designing the exoskeleton in 2011, developing it in his garage and founding Levitate Technologies in 2013. Pathway, a design company, worked with Levitate to optimize Airframe. It is produced by D&K Engineering.
Doyle initially designed the Airframe to support surgeons who suffered from fatigue and pain after long surgeries. Doctors requested a system to relieve their arms during long and repetitive movements. An internal review board at a healthcare facility where physicians wore the Airframe found that fatigue decreased by nearly 50 percent, and the pain rate decreased by 25 percent.
The exoskeleton transfers the weight of the arms from the neck, shoulders and upper back to the body's core, evenly distributing energy in order to reduce stress. The Airframe also slips on and off easily, and moves seamlessly with the wearer without intruding on the workspace or limiting motion or dexterity.
The mechanical support system progressively activates as the arm is raised, and gradually releases as the arm is lowered. The device is personalized to fit each employee, who can use his or her arms as normal with reduced fatigue and comfort. The device requires no power source, as it's mechanically engineered to rely on a patented system of pulleys. When Doyle designed the Airframe, one of his most critical considerations was keeping the vest light and compact, but capable of handling up to 220 pounds. He received technical support from an online calculator developed by Igus.
The Airframe, as well as other exoskeletons in development, are offering manufacturers two key takeaways. By providing a safer way to perform repetitive tasks, preventable injuries are being avoided. This not only improves overall safety, but eliminates the costs associated with healthcare and production downtime. The end results are safer, more efficient operations.
Image Credit: igus® inc
Related