The Compression Molding Advantage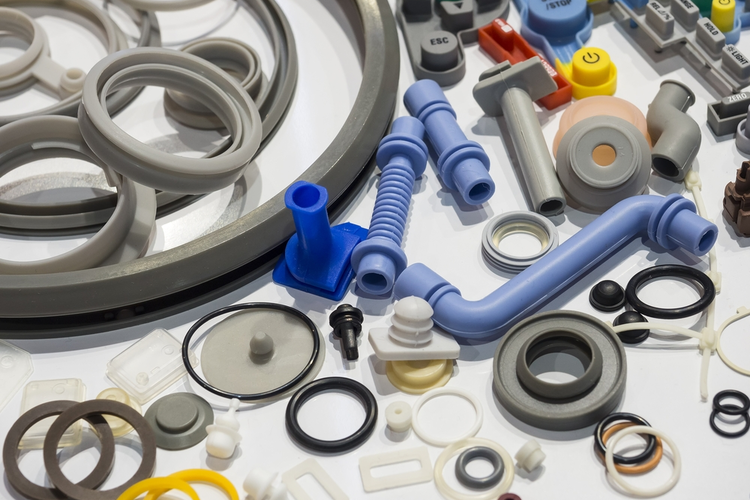 For industry professionals seeking innovative new designs, cost-effective parts, and high-performance products, contemporary thermoplastic and rubber molding serves as an ideal solution. Strong, versatile materials allow for the use of close tolerances and intricate design, while efficient work processes minimize waste and maximize the speed of operations.
For quick, reliable manufacturing, three major types of molding are commonly used: compression, injection, and extrusion molding.
Molding 101: Key Benefits and Options
Whether dealing with electrical distribution, heavy-duty railroad components, or children's toys, rubber and thermoplastic molding makes it possible for modern manufacturers to create high-quality parts from nearly any kind of design.
Extrusion molding produces continuous process lengths of up to 60 feet, with consistent cross sections. This is a low-cost method, even at high production volumes, and is ideal for crafting hoses and piping.
Injection molding is a frequently utilized manufacturing process, with shorter production cycles and higher production rates than other methods. Within injection molding, parts leave the mold with a finished look and the least possible waste, requiring minimal post-production tooling. This allows for large, quick runs at a low cost per unit.
Compression molding is a good choice for large parts, losing small amounts of material during the molding process. In addition to allowing for efficient tooling design, compression molding is a very simple, straightforward process, making it also extremely cost-effective.
Understanding Compression Molding
Simple and versatile, compression molding utilizes an open, heated mold cavity. A thermoset composite material is compressed to fill every surface of the mold, allowing for the creation of a wide variety of parts with unique thicknesses, lengths, and detail levels. End products tend to be extremely strong, and often have the added benefits of lightness and corrosion resistance thanks to the use of sophisticated base materials.
Compression molding involves four basic steps:
A strong, precise metal tool is developed to suit a project's specific needs, with appropriate dimensions and shaping. It's then installed into a press and heated to prepare for molding.
The composite material is preformed to fit the rough shape of the tool.
The preform is compressed into the heated mold.
The pressure is then released, and the part may be removed from the tooling.
Common Industries and Applications for Compression Molding
Versatile and cost-effective, compression molding is an ideal solution for manufacturing different types of components. Well-suited to a wide range of industries, the options are virtually endless. Some of the most popular uses include:
Home and food appliance manufacturing, for lightweight and dimensionally stable components
Oil and gas parts that resist corrosion, chemicals, and wear
Electrical and electronics manufacturing, for components with both thermal and dimensional stability
Utility tools offering UV and thermal stability
Safety equipment, for fire- and impact-resistant performance
Medical devices built with lightweight precision
Defense and aerospace parts involving simple fabrication processes and allowing for wear-resistant performance
Automotive and transportation components with simple builds and insulating properties
Sporting goods with enhanced safety features and toughness
Power tools built for lightweight strength
Lighting solutions, both indoor and outdoor
The Versatility of Compression Molding
Simple, straightforward, and versatile, compression molding allows engineers to convert traditionally metal part designs into compression molded plastic. The resulting parts tend to be stiffer, stronger, and lighter than their metallic counterparts, and, due to the high precision offered by the compression molding process, can often be substituted one-for-one in existing metal systems.
In addition to allowing for ease of manufacturing, compression molding offers quick assembly and production, ensuring attractive finished parts, minimal waste, and low-maintenance tooling.
Resources:
Image Credit: Aumm graphixphoto/Shutterstock.com
Related