The Benefits of Building Modular Restrooms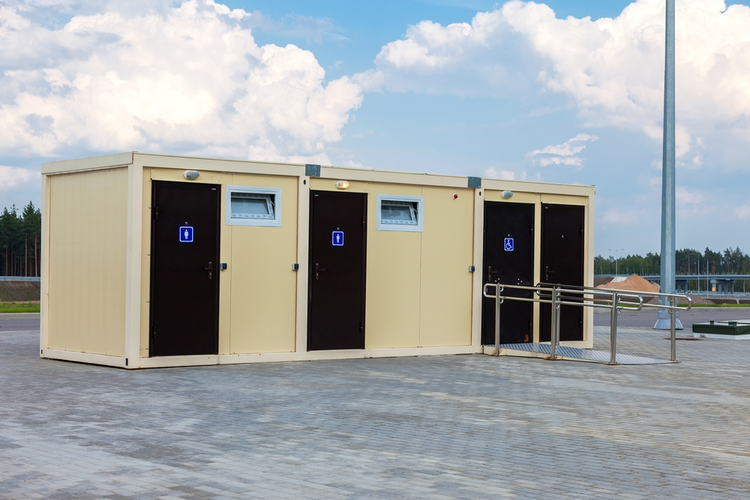 When you need a building and you need it now, modular construction may be the answer. Allowing for quick construction of a new facility, or easy expansion of an existing one, modular buildings offer a range of unique features and benefits.
Often referred to as prefabricated buildings, modular buildings are constructed piece by piece in a factory, transported to the worksite, then assembled by a trained crew. This building method offers numerous advantages over traditional construction in terms of cost, consistency, and construction time.
Modular construction methods have been used to build everything from full-scale skyscrapers to retail outlets to specially designed blast-proof structures. While modular buildings are used for a wide variety of applications, these structures are particularly well suited for quick additions to existing facilities.
Prefabricated restrooms and locker rooms, for example, can be installed very quickly in order to accommodate increased traffic or a growing workforce.
Benefits of Modular Construction
Modular construction offers several unique benefits over standard construction methods. Some of these advantages include:
Quick turnaround: The planning stages for modular buildings are significantly shorter than those involved in traditional structures, and construction/assembly times are often as short as a day.

High quality: Modular components are assembled in a factory using stringent quality control measures, ensuring that the quality of each piece is reliable and repeatable.

Low cost: Quick assembly times offer significant labor savings, while large production runs of components offer bulk savings on materials.

Skilled labor: Construction suffers from the same skilled labor shortage as manufacturing, but most modular building manufacturers also provide the required labor to assemble your structure quickly and safely.

Easy customization: Most modular building providers offer a wide selection of designs and floor plans, and can customize prefabricated buildings to match the aesthetics of existing facilities.
Common Applications for Modular Restrooms
Modular restrooms are ideal for use in many different settings. Once designs are finalized and the restroom is delivered, it can be quickly hooked up to municipal sewage, water, and power, providing fully functional restrooms in a matter of hours — an ideal solution for any operation suffering from a shortage of restroom facilities.
Prefabricated restrooms are particularly useful in the following industries and applications:
Industrial
Any significant workforce expansion will also require an expansion of restrooms, locker rooms, and related facilities. Productivity will suffer if workers have to spend time standing in long bathroom lines.
Outdoors
Campgrounds, parks, and other outdoor locations are well suited for modular restrooms, shower facilities, and locker rooms, all of which can be customized to handle harsh weather and other environmental conditions.
Medical
Patients and staff alike need convenient, accessible restrooms, and any permanent increase — or significant temporary increase — in workforce size or patient population will require a fast solution to ensure that there are enough facilities for everyone.
Education
Student populations often grow quickly, leaving administrators scrambling to expand basic necessities that will accommodate the size of the staff and student body. Prefabricated restrooms, locker rooms, and showers can quickly solve this problem for schools and universities.
Commercial
Retailers, restaurants, office spaces, and other commercial facilities may need to expand restroom space at some point, and modular construction offers a fast and affordable solution for doing so.
Temporary
Modular restrooms are ideal for a variety of temporary applications, such as music festivals, seasonal sporting events, fitting rooms for pop-up retail stores, short-term replacements for damaged facilities, rest areas, traveling fairs/circuses, and much more.
The Versatility of Modular Restrooms
If your operation needs to replace or expand restroom space, consider using modular restrooms. Fast and affordable, prefabricated construction methods offer a wide range of full-service restroom, locker room, and shower solutions to suit the needs of any application.
Resources:
Image Credit: FotograFFF/Shutterstock.com
Related