The Beginner's Guide to Hydrogen-Fueled Trucks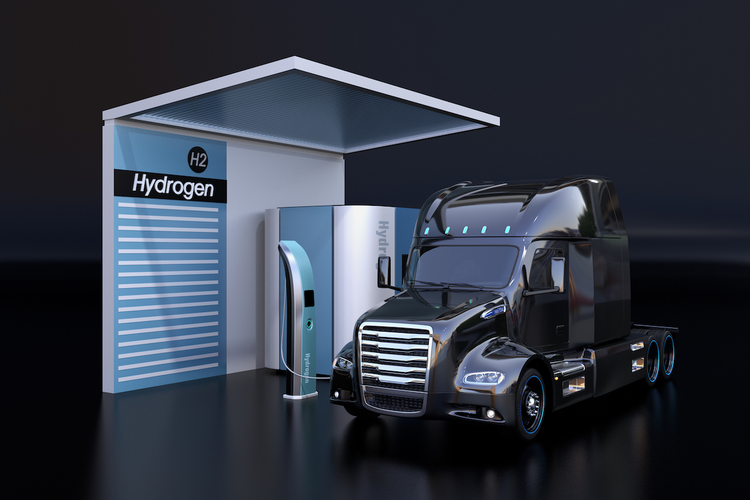 In the clean automotive sphere, there has been growing interest in the use of hydrogen-fueled trucks for logistics operations. Wondering what all the fuss is about, or curious to explore whether these new options can benefit your company? Before making any decisions, it's important to take the time to fully understand what these vehicles can offer and how they may affect overall operations.
Hydrogen-Fueled Transportation
Hydrogen-fueled vehicles use hydrogen gas to power the electric motor, while more conventional vehicles run on gasoline or diesel. Combining hydrogen and oxygen to produce their electricity, these fuel cell vehicles are considered electric, but their range and refueling processes are more similar to those of conventional models. Hydrogen-fueled vehicles need to refuel at stations selling pressurized hydrogen.
One big player in the market, trucking startup Nikola, announced in November the third iteration of its hydrogen-powered truck. The company expects to roll out this hydrogen-electric semi, called the Tre, in 2023. The truck has a range of about 310 to 750 miles. While this is not extraordinary, Nikola says that the vehicle can be recharged in about 20 minutes. The hybrid truck uses a hydrogen cell to run several electric motors. The company stated that it had "thousands of trucks that have been reserved and need to be delivered."
Toyota has also built a prototype fuel cell truck for trial in California, which has tough fuel emissions laws to combat some of the worst air quality in the nation. Its Alpha Truck is being tested in the Port of Los Angeles, where a heavy concentration of trucks hauls cargo from container ships on a daily basis.
Advantages of Hydrogen-Powered Vehicles
Conventional heavy-duty transport vehicles consume much more power than passenger vehicles. Converting hydrogen gas into electricity results in water and heat, reducing environmental impact. Additionally, fuel cell cars and trucks shut down the fuel cell at stop signs or in traffic, and can employ regenerative braking to capture lost energy and charge the battery.
One kilogram of hydrogen can store 236 times more energy than a kilogram of lithium-ion batteries. Still, producing the hydrogen can lead to pollution, including greenhouse gas emissions. But the early fuel cell cars cut emissions by more than 30% when compared to their gasoline-powered counterparts.
The ultimate aim is to produce hydrogen through zero-emission methods whenever possible by using wind, solar, and hydro-electricity. California, for instance, is demanding it. The state has mandated that a minimum of 33% of the hydrogen being sold for use in transportation come from renewable sources.
Disadvantages of Hydrogen-Powered Vehicles
As with most electric vehicles, the driving range remains an issue. Still, hydrogen fuel-powered vehicles allow for higher efficiency, as these vehicles don't have to carry the same heavy battery that all-electric vehicles require.
However, there is little infrastructure in place for these types of vehicles. To change that, Japan's automakers Honda and Toyota are aiming to have 160 fueling stations in the country by March 2021. California is aiming for 50 stations in the state by 2020. Nikola, too, has partnered with Nel ASA to install a network of 16 fueling stations across 2,000 miles. Two have already been kicked off.
Nevertheless, hydrogen storage, hydrogen shipping, and hydrogen production are all needed in addition to the stations. Plus, although hydrogen is the most abundant element in the universe, it's extremely inefficient to store.
And because the technology is still in its infancy, the costs are going to be higher. Greater scale and demand are needed to reduce the cost per kilogram of hydrogen and allow businesses to reap the full benefits of this new technology.
Image Credit: Chesky / Shutterstock.com
Related