Tesla's Electric Semi Makes Initial Delivery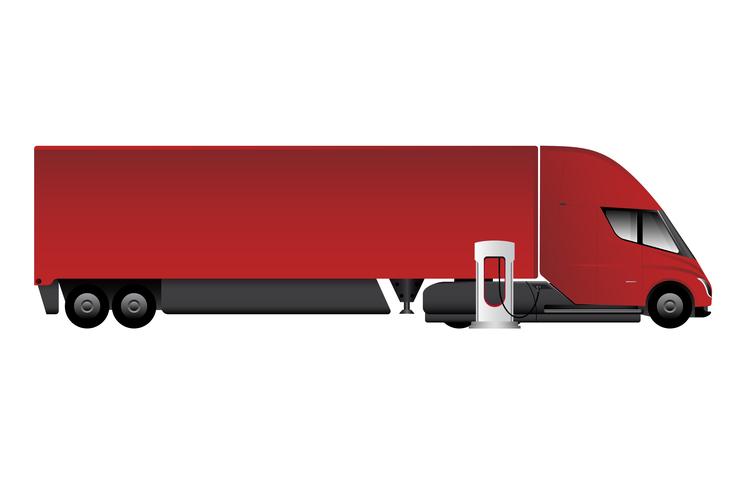 Last November, Tesla unveiled an all-electric semi that boasted a maximum range of up to 500 miles on a single charge when traveling with a full 80,000 pounds of cargo at highway speeds. This distance is about half the range of a fully fueled, similarly loaded diesel semi. The truck was met with optimistic scrutiny, as Tesla received early orders from UPS, Budweiser, Pepsi and Wal-Mart for a limited number of semis.
Earlier this week, a couple of these vehicles made their first delivery – transporting battery packs between two Tesla facilities in Nevada and California. The round-trip distance was just under the 500-mile limit for a single charge. The vehicle's battery is built into the chassis and powers a separate motor at each of the four axles. Additional features include Tesla's latest semi-autonomous driving system, two 15" navigation screens, and blind-spot monitoring.
Tesla is hoping to start commercial sales of the vehicle as soon as next year at prices ranging from $150,000 for a 300-mile range model to $180,000 for the 500-mile unit. However, sales of the semi will probably be more dependent on the company's ability to establish a strong network of charging stations than on the price. While the 500-mile range should be acceptable for local routes, the ability to handle longer deliveries, or more of them, will help in gaining industry adoption.
Tesla is also facing mounting pressure in this category of vehicles. In addition to competing against electric semi platforms from industry behemoths like Navistar, Volkswagen, and Daimler, start-ups like Nikola and Thor Motors are also beginning to attract attention and funding.
Related