Additive Manufacturing / 3D Manufacturing
Team 3D Prints Giant Wind Turbine Mold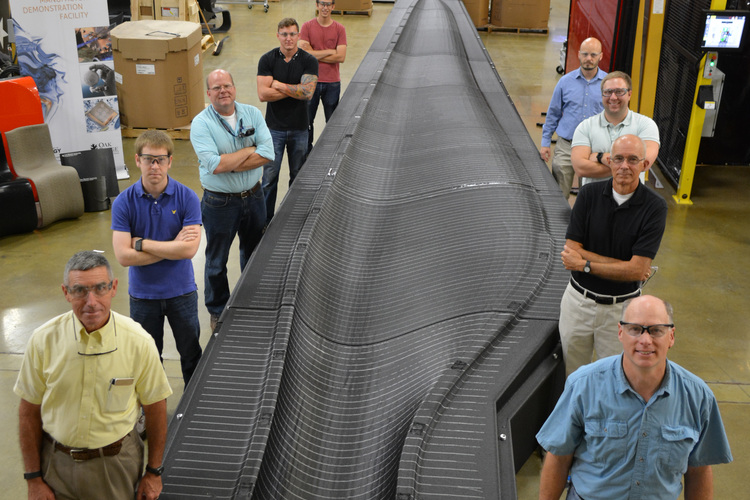 In collaboration with Oak Ridge National Laboratory's Manufacturing Demonstration Facility Team and turbine blade manufacturer TPI Composites, Sandia National Laboratories 3D printed a massive mold to produce wind turbine blades.
Sandia researchers have been working on wind turbines for the better part of 40 years; it's part of the lab's effort to make the renewable energy more affordable. However, building wind turbine prototypes takes a lot of time and effort, and each requires custom molds that take up to 16 months to complete before the blade can be developed and tested.
Through the use of 3D printing, the team was able to cut mold development time by more than 80 percent, going from 16 months of development time down to 3 months. The work cut out more than a year of labor.
The 13-meter blade mold is relatively small compared to other blades currently on the market and under development — for example, GE's Haliade-X blades will be 107 meters long. However, by cutting design and development time and cost, engineers could take greater risks during the prototype phase that could potentially accelerate innovation in the market.
Last week, the work was honored with the 2018 Technology Focus Award from the Federal Laboratory Consortium for Technology Transfer.
Sandia took the lead on the project by designing the blade and assessing the project's feasibility. Scottsdale, AZ-based TPI Composites performed the structural design and provided the CAD work. The mold was printed in several sections over the span of two weeks at Oak Ridge, but the blade's final assembly and manufacturing took place at TPI's facility.
The Federal Laboratory Consortium for Technology Transfer's awards program was created to recognize federal labs and industry partners for outstanding technology transfer efforts.
Image Credit: Brittany Cramer, Oak Ridge National Laboratory
Related