Taking a Bite Out of Food Worker Shortage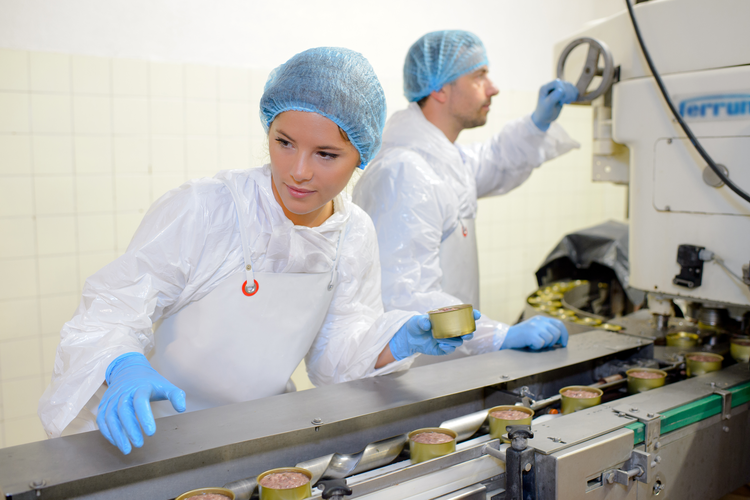 The food manufacturing and processing sector is currently dealing with a serious shortage of skilled workers. Here's what's driving the shortfall and what the food and beverage industry is doing about it.
There is no shortage of demand for food processing workers, yet unemployment is at a 17-year-low. For several years now, the number of open jobs has been greater than the number of people seeking work. And things aren't expected to ease up for food processing hiring managers any time soon.
A retiring workforce and a lack of new skilled employees with the right work ethic may lead to an estimated 2.4 million manufacturing roles left open over the next decade, according to Deloitte and the Manufacturing Institute. The amount of time it takes to hire a new employee is also on the rise, taking an average of 93 days to hire a skilled production worker in 2018, up from 70 days in 2015.
The CareersinFood job board has seen significant growth in manufacturing job openings, increasing by 51%, compared to a 12% increase in overall open roles posted in 2018.
All told, the manufacturing skills shortage could risk $2.5 trillion in economic output over the next decade.
Satisfying the Hunger for Skilled Workers
Food manufacturers and processors are trying many different approaches to find skilled workers and fill openings. Offering higher pay is a common tactic, with 78% of the manufacturers interviewed by Deloitte saying that they had offered higher wages in an attempt to attract workers. Tyson, for instance, has increased its "hourly pay by double digits (on a percentage basis) over the past three years," stated Gary Mickelson, senior director of public relations. The industry average for food processing workers is $12.69, according to the Bureau of Labor Statistics.
Other companies are outsourcing to contract manufacturers. While this strategy can help increase productivity and protect investments in the short term, there are concerns over the potential for reduced product quality and the difficulty in protecting intellectual property.
Looking to hire more long-term workers, other businesses are making their hiring processes more flexible. Instead of adhering rigidly to prerequisites such as a certain number of years of experience, companies are now looking more at candidates' existing skill sets and future potential. Additionally, offering enhanced employee training and onboarding programs and focusing on employee engagement efforts can help cultivate a positive company culture and a sense of loyalty to the business, which bolsters retention efforts.
Creating targeted roles for the more experienced employees who might retire otherwise can also help keep qualified individuals at work longer. In retirement exit interviews at Michelin North America, for instance, interviewers will gauge individuals' interest in continuing work in some kind of reduced-hours or more flexible setup.
At the other end of the spectrum, many businesses are partnering with community colleges or local high schools to develop youth internship programs. Introducing the digital generation to the possibilities of manufacturing employment can help fill the pipeline for jobs.
This may end up being a major factor in dealing with the shortage. Howard Dorman, a partner and practice leader in the Food and Beverage group at Mazars, emphasized that food companies just "can't find the younger people who want to come in and be that spot welder or whatever that job is."
Still other businesses are looking to automation and co-bots to take on low-skill jobs and free up human employees for more value-added tasks. In the Deloitte research, 64% of respondents reported that automation was helping them overcome the worker shortage.
A Taste of What's to Come
Today's food companies have a tough job ahead. To stand out to potential candidates in today's ever-shifting industrial landscape, businesses will increasingly need to offer competitive pay, comprehensive training, continued education, generous benefits, flexible scheduling, and more.
Image Credit: Phovoir / Shutterstock.com
Related