Supplying the Growing Microbrewery Market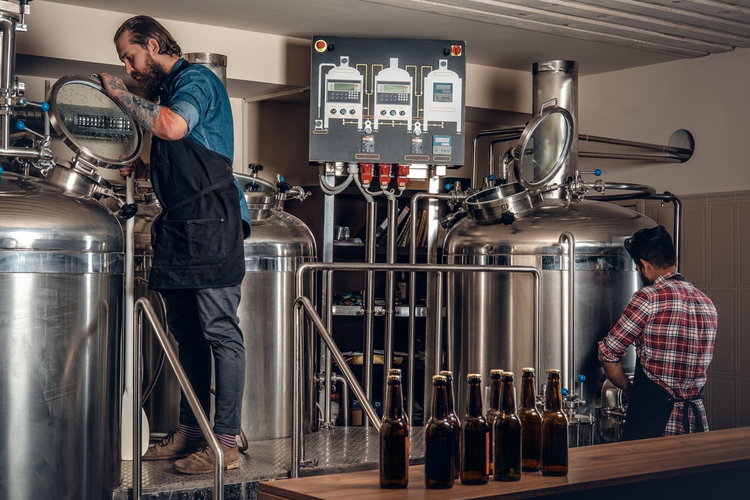 Offering small-batch, unique products, microbreweries produce no more than 15,000 barrels a year, with at least 75% of the beer sold outside of the brewery. Whether it's a neighbor crafting creamy stouts in their basement or a small shop locally selling unique double IPAs, the microbrewery market is growing by the day. Distinct from craft breweries, microbreweries have more flexibility in the use of oats, barley, and wheat over the 50% traditional malt content.
From 2011 to Dec. 2015, the number of U.S. breweries — encompassing everything from Budweiser to your favorite local brewery — grew by 103%. Craft beers and microbrews have gained traction for a few reasons — a growing number of people looking to transform a hobby into a business venture, entrepreneurs striving to source and sell locally, and consumers seeking exclusive, locally made products.
Microbrewery Equipment
In order to create and supply these delicious micro and craft brews, brewers must invest in the proper equipment. The overall cost of supplies will depend on the size of the brewery, with the smallest capacity of one barrel (31 gallons) of beer running around $100,000 for used equipment.

Essential brewing equipment includes the following items:
Kettles
Kegs
Boilers
Bottling
Canning lines
Conveyors
Fermentation tanks
Storage tanks
Cooling systems
Filters
Refrigeration
Cleaning and waste treatment systems
Tap handles
Labeling machines
Liquid level gauges on kettles are particularly important for accurate measurements; these allow users to easily measure the amount of wort collected or boiled off, the water added to the mash/lauter tun, and water heated in the tank. Proper level gauges also allow for much easier flow-rate matching and more consistent results. These gauges are often referred to as sight glasses.

When selecting a sight glass, the specific needs of the application must be carefully considered to allow for optimal viewing and measuring of the media. Custom and specialized options are also available, such as double-window assemblies.
How Microbreweries Are Helping Manufacturers
The rising popularity of craft beer is not only benefiting our taste buds, but it's also giving manufacturers new business, as they can design and supply the equipment mentioned above. As more and more breweries pop up, manufacturers are working to provide everything from process observation equipment to steel tanks and industrial-sized barrels. Plus, bigger breweries often require many large storage units as well as complex, sometimes automated, equipment.

For example, Milwaukee is home to a manufacturer responsible for three high-profile brewery projects in the area over the last few years, providing custom tanks and other brewing equipment for large-scale operations. Their success in this area has made it possible for them to move and expand their headquarters, as well as hire additional staff and train students in sanitary stainless steel welding.

America's appetite for beer is not going away anytime soon. With the continuing rise in the number of breweries, it's critical for manufacturers to be well-versed on the type of equipment these businesses require and how to best serve their needs. Next time you're sipping on a craft beer, remember that many local hands likely helped create the product you're enjoying.


Resources:
Related