Supply Chain and Logistics Degree Programs Are Becoming Increasingly Popular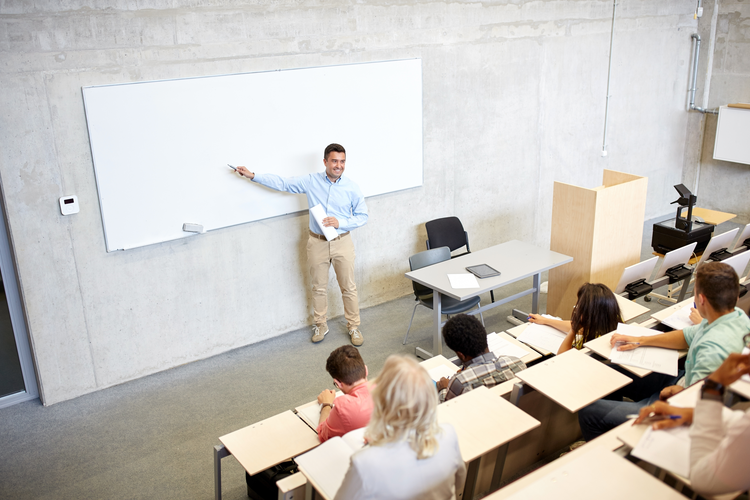 In recent years, leaders in the supply chain sphere have been seeing the benefits of providing continued education to employees, especially as the world of industry becomes more and more saturated with new technologies and data.
The rising demand for tech-focused skills and ongoing training has spurred many colleges to begin offering new supply chain degree programs that align with evolving industry needs — from both company and employee perspectives.
Learning the Modern Way
The modern industrial employee is busy. Not only do they have personal and family commitments like anyone else, but today's jobs are requiring more complex knowledge, more in-depth skills, a broader skill base, and a whole lot of time and energy. This can be a problem for many professionals looking to further their education; they simply don't have time to commute back and forth to school after a full-time work week.
Many universities keep this and other convenience factors in mind when opting to offer online and hybrid courses. Online courses allow employees to complete their schoolwork on their own time, whether during lunch breaks, on commutes, or after their kids are asleep at night, as long as deadlines are met.
Hybrid courses combine both an online and traditional, on-campus approach. Students may be required to commit a certain number of hours to in-person training or lab work, but are still able to take advantage of the convenience of online learning for those aspects of degree programs that can be completed via self-study.
What Supply Chain Courses and Degree Programs Are Being Offered?
Many schools have begun or have plans to begin degree programs in supply chain and logistics. Below are just a few examples of such programs.
ASCM Supply Chain Principles on Demand
The Association for Supply Chain Management (ASCM) is offering on-demand learning for workers who may not want or need to complete a full degree program but are seeking to update or refresh their skills. This can be hugely helpful for workers looking to gain new responsibilities, hone their people skills, and acquire the knowledge necessary to direct and manage organizational progress.
ASCM Supply Chain Learning Center
The ASCM has also created a full learning center. The Supply Chain Learning Center will offer a range of different educational materials and resources, including online training sessions, webinars, and on-site training seminars that allow companies to see and resolve issues within their own walls, rather than having to apply complex concepts and solutions learned and experimented with solely in offsite training locations.
UIC's Master of Supply Chain and Operations Management
Starting in spring 2019, the University of Illinois at Chicago College of Business Administration Liautaud Graduate School will be offering a Master of Science in supply chain and operations management. The program requires students to complete 16 hours of electives and 16 hours of course-related curriculum for a total of 32 credit hours. The degree provides preparation for a range of different fields, and courses focus on skills that are in high demand within the supply chain sphere — data and logistics, analytical modeling, business intelligence, and leadership.
FIU's Ryder Center for Supply Chain Masters Program
Miami's Florida International University (FIU) has its own center for supply chain studies, called the Ryder Center for Supply Chain, which offers a Master of Science program in logistics and supply chain management — the first of its kind in the state of Florida. The program focuses on both the interpersonal skills needed in the industry, which are required for effective leadership, as well as technology and data skills, which are in high demand within the industry. Although technology is extremely important in the supply chain, the ability to effectively communicate and connect with coworkers, suppliers, and professional partners is paramount.
Michigan State University's Broad College of Business Master in Supply Chain Management
MSU's program emphasizes convenience. The school offers online courses, allowing students to work remotely for the majority of the program while also spending some time on campus during a few three-day weekends, making this a hybrid program. Unlike some colleges that have ported traditional content to the web, MSU has taken such flexibility a step further, working with Bisk online management to better utilize the online format and respect the time of students by presenting content and trainings in a way that fully meets the expectations of modern internet users.
University of Washington Foster School of Business Master of Supply Chain Management
This program began in 2016, putting it slightly ahead of the curve. It enrolled 38 students that year, and last year 44 students enrolled. Focused on supply chain management specifically, the program sets students up for success in increasingly complex, interconnected operational environments. The curriculum centers on end-to-end supply chain concepts while incorporating Big Data analytics and hands-on industry experience.
University of Washington Master in Supply Chain Transportation and Logistics
UW also offers another degree program via the school's civil and environmental engineering department; this serves as a flexible option for workers trying to continue their education. The Master in Supply Chain Transportation and Logistics program is a hybrid option, which allows students to complete some work online while also taking advantage of the benefits of a short-term campus residency. The program is less about vehicle routing and more about methods of utilizing new technology — a skill that will be vital for tomorrow's leaders in supply chain and logistics.
Looking Ahead
As the supply chain sphere becomes increasingly complex and digitized, making use of a wide range of new technologies and tools, workers will need to ensure that their skill sets remain relevant and up-to-date.
To meet these needs and allow professionals already in the workforce to continue their education and hone their existing skills, many of the new supply chain master's degree programs are very flexible, allowing students to complete work remotely or combine online courses with in-person training.
Image Credit: Syda Production / Shutterstock.com
Related