Stratolaunch: The Football Field-Sized Airplane That Could Revolutionize Space Travel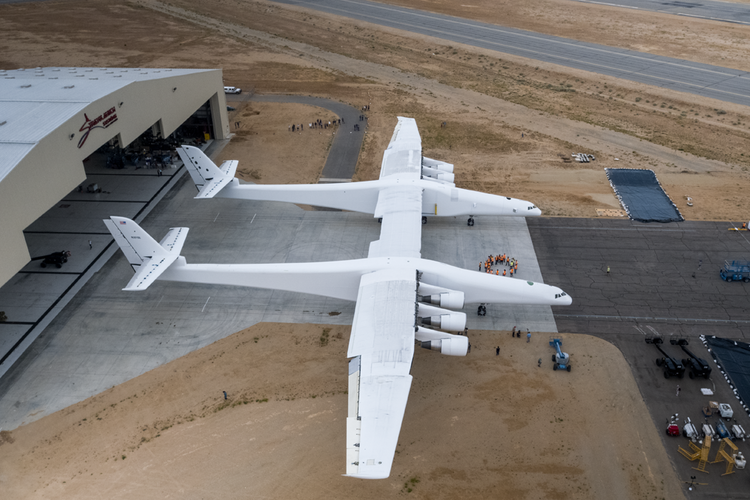 Housed in a bunker in California's Mojave Desert is a plane nicknamed "the Savior" due to the unanimous exclamations of disbelief and wonder from all who see it for the first time. Officially named Stratolaunch, the plane weighs 1.3 million pounds and has a wingspan of 385 feet. It features six turbofan jet engines and 80 miles of wiring.
As described in a recent Wired article, "If the Wright brothers had begun their initial Kitty Hawk flight at the tip of one Stratolaunch wing, they could have completed the journey and done it twice more before they reached the other end."
The History of Stratolaunch
Stratolaunch is designed in a catamaran style with twin fuselages, and is bigger than a football field. Less like a plane and more like a ship or a building, the aircraft requires extensive effort to accomplish the most basic of tasks; for example, it takes over eight hours to lower the aircraft just 2 feet. What could possibly necessitate such a gargantuan and burdensome project? The answer is perhaps more impressive, and more unbelievable, than the structure itself: Stratolaunch is a flying launchpad designed to transport rockets to cruising altitude in order to launch them into space.
Stratolaunch was first announced by Paul Allen, the co-founder of Microsoft, in December 2011. He and Burt Rutan, the original designer and dreamer of the project, believed that the aircraft would take flight in 2015. Though that timeline has passed, it appears that the first flight is imminent, and could even be taking place as early as this fall.
Completely built, the airplane now resides at the Mojave Air and Space Port in a 100,000-square-foot hangar, the culmination of a decades-long partnership between Allen and Rutan. The two first met in 1996 when Allen was "exploring the idea of delivering broadband from the sky." They collaborated, along with billionaire Richard Branson, on SpaceShipOne, which won a $10 million prize in 2004 for sending a person into suborbital space twice in a two-week span using the same ship.
Many years later, Allen again became interested in aerospace design. He was watching "as NASA pulled back on space operations and private businesses emerged to fill the gaps," and saw an opportunity with Rutan, who had been working on the "Big Airplane" idea for over 20 years with his company Scaled Composites. Allen compares the opportunity to his work — and great success — with PCs. Satellite costs have come down, and their uses have expanded thanks to various technological advancements. He believes that Stratolaunch could serve as "a reliable and thrifty way to launch satellites," generating more uses and creating an expansive market.
Features and Benefits of Stratolaunch
Air launches offer a range of unique benefits. First off, there are only a few facilities in the United States where rockets can take off, which leads to serious congestion. Plus, an air launch offers much more flexibility, as the weather is less of a concern. And since the plane can be reused, the cost of operations is significantly reduced.
However, there is a reason that this aircraft is the first of its kind. The massive wingspan is built to accommodate the weight of the vehicle as well as the rocket, which alone can be as heavy as 640,000 pounds. At first glance, the vehicle seems as though it would snap in half due to the sheer size of the construction. However, Rutan used a process called protrusion, which "pulls a material at a constant rate and then bakes it until it hardens" to create the 285-foot spars, each weighing 18,000 pounds.
Stratolaunch also has its own rockets, designed specifically for the plane. The engines were created using 3D printing processes, which kept down costs to 1/5 of the usual price, and are able to transport multiple satellites, the first of which is named "Kraken." If all goes as planned, the inventors plan on designing reusable space planes to take off from Stratolaunch, go into orbit, release their payloads, and then come back to Earth to refuel and do it all over again. This concept is known internally as "Black Ice." Allen and Rutan hope to eventually be able to use the planes to carry astronauts themselves.
Looking Up, Looking Ahead
However, before any of these projects go into orbit, Stratolaunch must first get off the ground. "We just want to see this gigantic airplane fly," says Niki Dugue, a Scaled Composites engineer. It looks like the time is fast approaching — perhaps even before the end of this year. Until then, keep an eye out for Stratolaunch. Then again, it will certainly be hard to miss.
Image Credit: Stratolaunch/https://www.stratolaunch.com/news-and-features/galleries/
Related