South Carolina's Manufacturing Growth Problem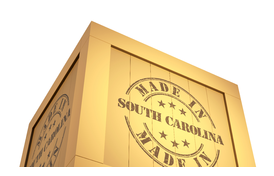 In many ways, the Southeastern U.S. resides at the heart of a new age in U.S. manufacturing. The need to replace factory jobs that were shipped overseas, largely in the textiles industries, led to tax incentives and readily available green and brownfield spaces for manufacturers and the jobs they could bring.
Perhaps no individual state leveraged these practices, and the resulting benefits, better than South Carolina. The state's story really began with BMW building its Spartanburg facility in the early 1990s. A number of other automotive manufacturers would follow, including Mercedes-Benz, Volvo and Honda. Tier one suppliers would soon plant their flags in South Carolina as well, expanding the state's automotive manufacturing landscape.
A politically-friendly climate, proximity to the Port of Charleston, a lack of union history, and lower wage demands than other parts of the country all added to the geography's allure. This meant other industries would soon follow the trail broken by automakers. Five years ago Boeing started building their 787 Dreamliners in North Charleston, and that's where some of the problems started.
The Boeing plant now employs more than 7,000 workers. The BMW plant has steadily ramped up production to the point where it produces more than 1,400 vehicles a day, and continues to expand. Mercedes recently announced plans to hire 1,300 additional manufacturing workers. And not to be outdone, Volvo wants to hire 2,000 more factory employees by 2018.
Expansion and growth means all these firms are now competing for essentially the same workers in an industry facing a well-publicized national skills shortage. The reality of this worker shortage has actually led a number of South Carolina manufacturers to incur additional expenses in recruiting employees from outside the state, and even outside of the region, to fill these positions.
This could create an interesting dynamic as a number of the tax incentives being utilized by these manufactures are tied to job creation for South Carolinians. The state has also stepped in with the creation of the ReadySC apprenticeship program focused on identifying and training workers to fill these positions.
While no one is crying over South Carolina's inability to fill an overabundance of manufacturing jobs, it could create a touchy political situation. The state may eventually have to consider whether there is greater economic benefit attached to incentives for recruiting manufacturing, or if more resources are needed to ensure worker skills will allow for actually retaining all the industry currently calling the Palmetto State home.
Related