Shanghai Unveils 3D-Printed Concrete Bridge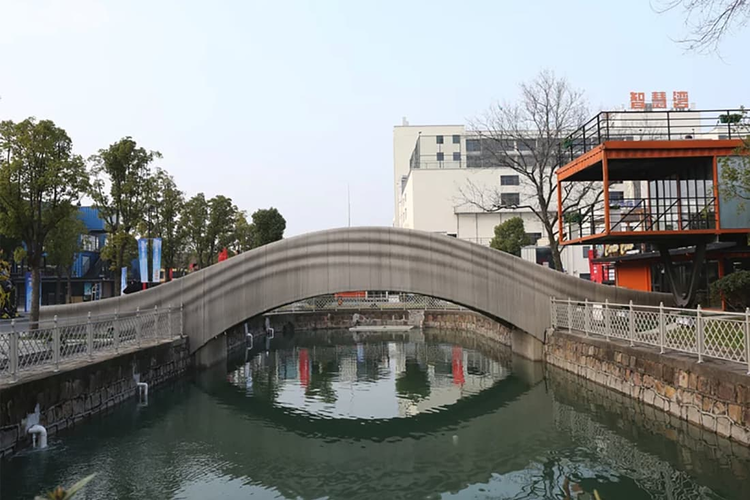 Printed by robots, designed like a ribbon, and fully integrated with smart sensors: Meet Shanghai's curvy, record-breaking, 3D-printed concrete bridge.
The bridge, located over a small canal in Shanghai's Baoshan District, is a part of Shanghai's "smart city" concept and was designed by a team from Tsinghua University's Zoina Land Joint Research Center for Digital Architecture (JCDA) led by Professor Xu Weiguo.
The bridge draws inspiration from a much-celebrated ancient predecessor: the oldest bridge in China. The Zhaozhou Bridge, spanning the Jiaohe River in the Hebei Province, was originally constructed between 589 and 618 AD. It also claims the title of the oldest open-spandrel, stone segmental arch bridge in the world.
While the Zhaozhou Bridge was built of limestone slabs, the new incarnation has been imagined in 3D-printed concrete and is fully embedded with smart sensors to measure stress, traffic, and stability in real time. Its design draws upon digital research outlining the optimal shape to support passing pedestrians' weight, and curves upward in a sleek, flowing arch over the canal.
Constructing Shanghai's 3D-Printed Bridge
The construction method for this bridge, though, is truly revolutionary: Every inch of the bridge's 86 feet was produced by two robotic arms and a 3D-printing process spanning a mere 450 hours. This process was groundbreaking in its incredibly high printing efficiency, continued consistency over a prolonged period of work, and high molding precision.
To test the structure's strength before full-scale printing, the team assembled a 1:4 physical model for structural failure testing. The final product, in addition to integrating a proprietary 3D-printing concrete system, also utilized printing-path generation, operation control systems, and digital architectural design technology.
The bridge's white pebble pavement was generated from the form of brain corals, and its handrails are designed to flow like ribbons over the arch for an elegant effect.
More 3D-Printed Projects on the Horizon
The students at Tsinghua are in good company. Their 3D-printed bridge joins Dutch designer Joris Laarman's ambitious 40-foot 3D-printed steel bridge in Amsterdam, exhibited at this past fall's Dutch Design Week. This bridge was crafted using a six-axis robot and, much like the JCDA team's bridge, was crafted in a series of pieces that were then melded into a final structure.
And, in a project that reaches toward the sun instead of across the water, David Wolferstetter's recent 3D-printed facade design, for the new entrance of the Deutsches Museum in Munich, also utilized robotics. The snow-white, delicate aesthetics of the prototype are reminiscent of a soft, wavy cloth, displaying the same fluidity found in both the Chinese and Dutch bridge designs — but to unique effect.
Wolferstetter and his team thought beyond load-bearing concerns, aiming for a material design that would provide optimal light quality, insulation, air circulation, and even a microstructure surface to ensure the best possible acoustics. And while the bridges discussed above utilized weighty steel and concrete, this design-savvy facade is being tested in lightweight polycarbonate, with an eye to large-scale installations in museums, meeting rooms, and much more.
Image Credit: JCDA
Related