Robot Orders Surged Throughout 2018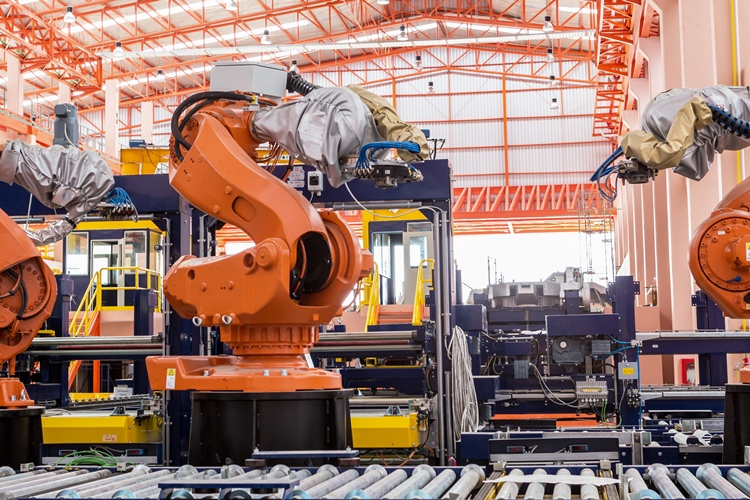 North American orders for robots from non-automotive companies surged during the first nine months of 2018, according to the Robotic Industries Association (RIA). Historically, the automotive industry has accounted for more than 60% of the North American market, but that number is down to 52%. According to the RIA, the split between the auto and non-automotive segments has never been smaller.
Valued at over $1.3 billion, 22,708 robots were ordered during the first nine months of 2018, down 17% in units and 11% in revenue year over year. Additionally, 28,158 robots valued at $1.39 billion were shipped to companies in North America during the first nine months of 2018. This represents an increase of 9% in units, but a decrease of 7% in revenue over the same period in 2017.
Robot shipments are an indicator of the number of robots delivered and installed by users. Alternatively, orders can provide a glimpse of future market expectations.
The 10,878 units ordered by companies not associated with the automotive sector was 24% higher than the previous record set in 2017. Orders to the automotive industry decreased by 36%.
Among the non-transportation industries that set new records were life sciences (up 30%), food and consumer goods (up 24%), plastics and rubber (up 16%), and electronics (up 14%). The RIA believes that as robots have become safer, more mobile, and configurable to a wider variety of user needs, they have become more appealing to new users.
"Despite the cyclical swing in automotive orders, interest in new robotics technologies continues to grow," said Jeff Burnstein, president of the RIA. Burnstein noted that his organization sees the rising interest reflected in the growth of the RIA's membership and networking events. Last month, the trade group reached a new membership milestone, with 532 member companies.
Image credit: SasinTipchai / Shutterstock.com
Related