Real-Life Santa Manufactures Toys for Children in Need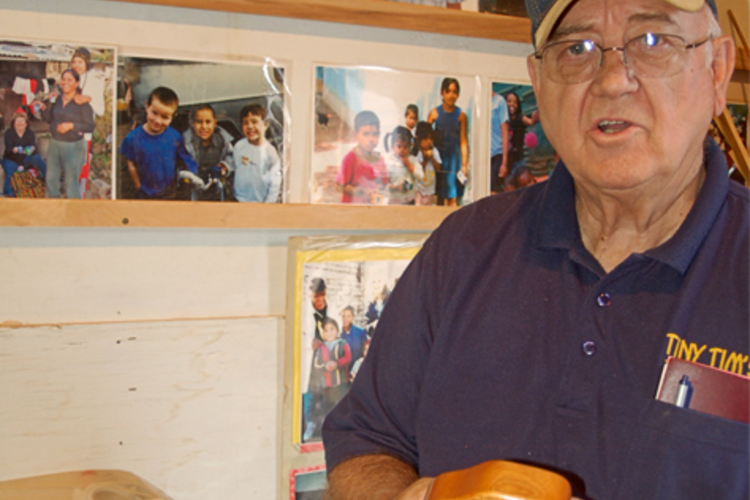 Not all Santas wear red hats, sport a fluffy white beard, or have a magical toy factory. Some, like Tiny Tim's Foundation for Kids founder Alton Thacker, wear a tried-and-true baseball cap and run a 100% nonprofit machine shop dedicated exclusively to making wooden toy cars for children in need. Instead of a team of elves, though, Thacker's organization is operated entirely by volunteers.
In West Jordan, Utah, Thacker and his wife Cheryl are famous for their philanthropic efforts and charitable giving; after one of their many altruistic trips to Mexico in the 90s, the couple was inspired to help bring joy to disadvantaged children by manufacturing toys. "When a child plays with a toy," their website says, "it sparks their imagination. They learn to think for themselves. They begin to explore the possibilities around them."
Equipped with a band saw, drill press, and sander, Thacker started out by setting up a workshop in his garage in 1996. In the beginning, it was challenging to manufacture even 100 toys a week. But by experimenting with different shapes, Thacker was able to design a wooden toy car that could be manufactured easily and efficiently.
It didn't take long for Thacker's generous spirit to spread — soon both individuals and organizations began to volunteer their time to help manufacture at the shop or send money and material donations. Tiny Tim's Foundation for Kids was soon able to expand to a larger location, where Thacker and his team of volunteers could pick up production in earnest.
In addition to organizations such as the Boy Scouts, Thacker's shop has attracted a wide variety of people looking to pitch in as volunteer machinists and assemblers. The foundation even enlists the help of inmates from a nearby prison — once the wooden cars are machined and assembled, most of them are sent to the prison, where they are painted by hand.
Every single one of these toys is donated to a child in need. Some are distributed locally, but the vast majority of wooden cars are sent to international locations. Tiny Tim's toys have been delivered to needy children in many countries, including Zimbabwe, Mexico, Thailand, Russia, and Iraq.
Over the years, Thacker and the Tiny Tim's Foundation for Kids have garnered a lot of media attention. Earlier this year, they were featured on an episode of Returning the Favor, a Facebook web series — hosted by Mike Row of Dirty Jobs fame — that celebrates people giving back in America.
After appearing on the show, Thacker went from being a local legend to a global one. Not only did people from all over the world contribute donations, but they also started reaching out to Thacker to discuss how Tiny Tim's Foundation for Kids could be expanded on an international level. While that's not in the cards for the foreseeable future, Thacker is excited and heartened by how many people have been inspired by his shop.
From humble beginnings come great things — on June 14 of this year, the foundation proudly machined its 1 millionth toy car, once again proving that Alton Thacker truly is a real-life Santa Claus, 365 days a year.
Image Credit: Tiny Tim's Foundation for Kids / http://www.tinytimstoys.org
Related