Perceptions of Manufacturing Improving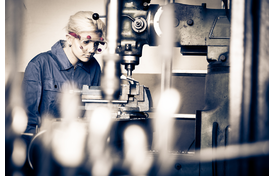 Since 2012 the National Association of Manufacturers (NAM) has promoted Manufacturing Day as a "celebration of modern manufacturing meant to inspire the next generation of manufacturers." Typically held the first Friday in October, the day is marked with a collection of open houses and tours of manufacturing facilities, as well as other community events and activities promoting the industry.
This year Manufacturing Day will be October 6. And according to NAM, the time, energy, and money that has been invested in these activities is beginning to show a return. Deloitte became a sponsor of Manufacturing Day in 2015, and in doing so began measuring public perception of manufacturing.
The researcher's polls have shown gradual improvements, such as:
In 2015, 81 percent of students who attended events emerged "more convinced that manufacturing provides careers that are interesting and rewarding." That number rose to 84 percent last year.
71 percent of student attendees both years said that they were more likely to tell friends, family, parents, or colleagues about manufacturing after attending an event.
Last year, 64 percent of surveyed student event attendees said they "were more motivated to pursue a career in manufacturing", which reflects an increase from 62 percent in 2015,
Based on the 267,000-student attendance figure, that's potentially 171,000 new members of manufacturing's next-generation workforce.
While these numbers are encouraging and motivating, it's important to remember that Deloitte also projects a shortage of qualified, skilled employees that could leave as many as 3.5 million manufacturing jobs unfilled between now and 2025. This reinforces the need for continued efforts like Manufacturing Day to promote the industry, as well as wide-ranging training initiatives that capitalize on positive sentiments and transition them towards producing qualified manufacturing workers in the U.S.
Related