Mustang Honors WWII Eagle Squadron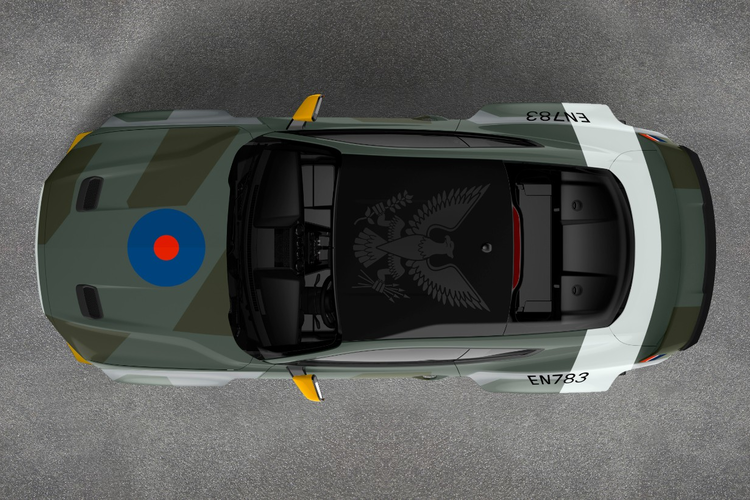 Ford is paying tribute to American fighter pilots who served in the Royal Air Force during World War II with a one-off Eagle Squadron Mustang. The one-of-a-kind 700-horsepower GT was co-created by Ford Performance and RTR Vehicles. In addition to a 5.0-liter V8 engine with a Ford Performance supercharger, the car features a camouflaged, fighter aircraft-inspired paint job, RTR carbon fiber wide-body kit and a Tactical Performance suspension package.
The vehicle will be auctioned off at the Experimental Aircraft Association's (EAA) largest fundraiser, The Gathering, held on July 26 during the EAA AirVenture fly-in in Oshkosh, Wisconsin. Proceeds will benefit the EAA's youth education programs.
This event will represent Ford's 20th year supporting The Gathering during EAA AirVenture. In total, Ford has donated 11 custom-designed vehicles and helped raise more than $3 million. Last year, an F-150 Raptor pickup truck was modified to pay homage to the F-22 Raptor fighter jet. The 545-hp truck sold for $300,000.
The Eagle Squadron Mustang takes its inspiration from World War II Royal Air Force Eagle squadrons that flew over the fields of the United Kingdom. The three Eagle Squadrons included a group of American volunteer pilots who flew over northern Europe, including the British coast and France before the U.S. entered the war.
Before the U.S. entered the war in 1941, many American pilots flew for the RAF in what became known as Eagle Squadrons. These pilots often flew P-51 Mustangs or Spitfires, many of which featured the distinctive shark's mouth. America continued to supply P-51 Mustangs to the RAF throughout World War II. Some even say that the name for Ford's iconic sports car came from these planes, but the horse logo was used because it was seen as more marketable.
Image Credit: Ford Motor Company / https://www.facebook.com/fordmustang
Related