Musk Narrows Hyperloop Pilot Possibilities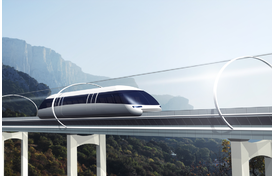 Few mass transit projects have garnered the attention of Elon Musk's Hyperloop. For those needing a refresher, this is the high-speed, mag-lev-driven super train that will rely on powerful magnets and electric motors to shoot pressurized pods containing passengers or freight through long tubes at speeds reaching 750 mph.
Over the last few months, Musk has successfully built some test pods and conducted initial test runs, registering speeds as high as 192 mph. So, while there is still a tremendous amount of work to be done, that hasn't stopped Musk from accepting bids to become the first Hyperloop site.
Recently, the company announced that 10 finalists had been selected from over 2,600 submissions. They include:
A Mexico City – Guadalajara route that would cover 331 miles in 38 minutes.
Edinburgh – London; 414 miles in 50 minutes.
India has two proposed routes. One would run from Mumbai – Chennai; 685 miles in 63 minutes, and Bengaluru – Chennai; 208 miles in 23 minutes. Chennai was one of the first cities to be developed by the British due to its proximity to the Bay of Bengal, so it carries significant cultural, historical and industrial prominence.
Miami – Orlando; 257 miles in 25 minutes.
Cheyenne – Denver – Pueblo; The 360-mile loop would cut hour-long drives to less than 10 minutes throughout.
Dallas – Laredo – Houston; The 640-mile track would reduce three-hour drives to 40-minute rides.
Chicago – Columbus – Pittsburgh; 488 miles in 47 minutes.
Toronto – Montreal; 398 miles in 39 minutes.
Glasgow – Liverpool in the UK; 339 miles in 47 minutes.
Hyperloop also announced a separate partnership with the Colorado Department of Transportation for a feasibility study to examine all aspects of the state's high-speed passenger and freight railway resources. These types of partnerships will be important as Musk and Hyperloop attempt to move forward. In addition to technological and funding challenges, political issues that include environmental impact, land usage rights and right-of-way legislation all await the future of Hyperloop.
Related