Much Ado About Funding: Crowdfunding in the Manufacturing Sector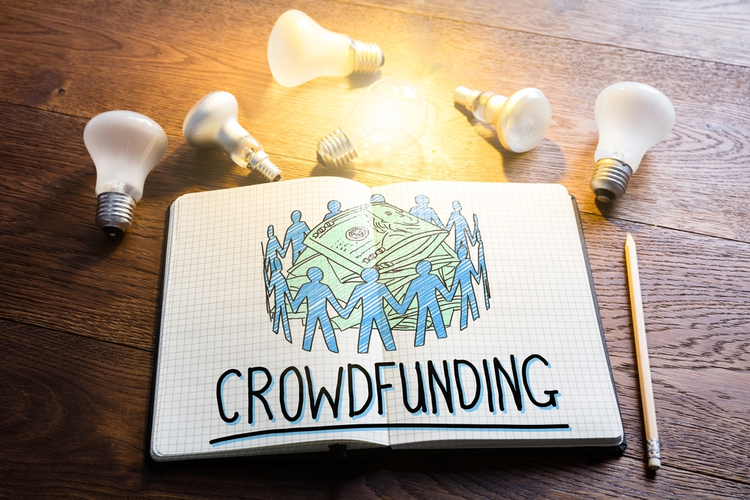 Sometimes it takes a village to get an idea off the ground. In recent years, crowdfunding has become an increasingly popular option for individuals and startups looking to raise capital for their projects. Crowdfunding, often referred to more broadly as crowdsourcing, isn't a new concept, though; in fact, the Statue of Liberty stands on its pedestal thanks to an early form of crowdfunding. But today, crowdsourcing is creating a totally new business model that redefines the relationship between company and consumer.
With crowdfunding, inventors submit their project to the public via a crowdsourcing platform such as Kickstarter, GoFundMe, or Indiegogo. The public can then make donations to the project. There are a few different types of crowdfunding, but the two most popular are reward-based and equity crowdfunding.
Typically, donations for reward-based crowdfunding projects are manifested as preorders for products. There also tend to be special gifts included, which can be anything from a limited edition T-shirt to an acknowledgment on the project's website or social media. With equity crowdfunding, people invest in the early stages of unlisted companies in exchange for company shares.
These donations and investments can then be used for anything the inventor or startup requires, such as tooling, production costs, or marketing.
Calling upon the internet community to finance a project or product offers several unique benefits for individuals and companies alike.
Crowdsourcing opens up resources and funding that are typically only available for larger corporations, helping individuals and small startups get their ideas off the ground.
Crowdsourcing can be used to gauge market interest or assess design issues prior to production. A flopped product can result in a massive hole in the wallet, as well as a warehouse full of products that can't be sold. By releasing only a prototype to the public, individuals and companies can avoid disastrous financial consequences before rolling a product into the production phase.
Crowdsourcing can be used for innovation and business expansion. Established companies can utilize crowdsourcing resources to explore new ventures and grow their businesses.
Crowdsourcing connects inventors and businesses directly to consumers, and promotes a sense of inclusivity. When consumers contribute to a crowdfunding campaign, they are investing more than just their money — they are also investing their trust and support.
A Match Made in Green Commerce Heaven: Sustainability and Crowdfunding
Because it directly connects consumers to businesses, crowdfunding has become a major player in sustainability efforts. As consumers grow more and more concerned about the environment and the sustainability of their purchasing habits, people are becoming more motivated to contribute to causes they support.
One of the most famous examples of the marriage between crowdsourcing and sustainability is Solar Roadways Inc. The company, founded in 2006 by Scott and Julie Brusaw, set out to mass-produce solar-powered high-tech road panels that could eventually be used to replace all roadways, parking lots, driveways, and other asphalt surfaces. These panels were designed to create smart highways with a closed loop system and clean energy utilization.
After years of research and experimentation financed through small business grants, the idea was ready for production — but the money was not. In April 2014, the Brusaws decided to launch their crowdfunding campaign on Indiegogo, where the idea catapulted into fame. Thanks in part to a tweet by Star Trek actor and social media superstar George Takei and a YouTube video entitled "Solar Freakin' Roadways" that went viral, the duo was able to quickly raise $2.2 million.
Another example is the Ocean Cleanup, a company founded by 24-year old Dutch entrepreneur and inventor Boyan Slat. Slat developed a drifting floatation system designed to utilize natural ocean currents in order to gather plastic ocean debris in smaller, more manageable areas, making it easier to remove the waste quickly.
In 2014, the company launched a campaign on Seeds, a Netherlands-based crowdfunding platform, and raised over $2 million in less than 100 days. The project will finally come to fruition this month, when the Ocean Cleanup sends their crowdfunded system on its first expedition inside the Great Pacific Garbage Patch, an area in the North Pacific Ocean with a very high concentration of plastic pollution.
The Future of Crowdsourcing
By redefining the relationship between companies and consumers, crowdfunding has opened new avenues for individuals, startups, and small- to medium-sized businesses, allowing them to introduce new ideas to the market with ease and efficiency. And, just as importantly, crowdfunding continues to foster innovation, creativity, and expansion throughout the marketplace as a whole.
Resources:
Image Credit: Andrey_Popov/Shutterstock.com
Related