Market Demand Growing for Cannabis Beauty Products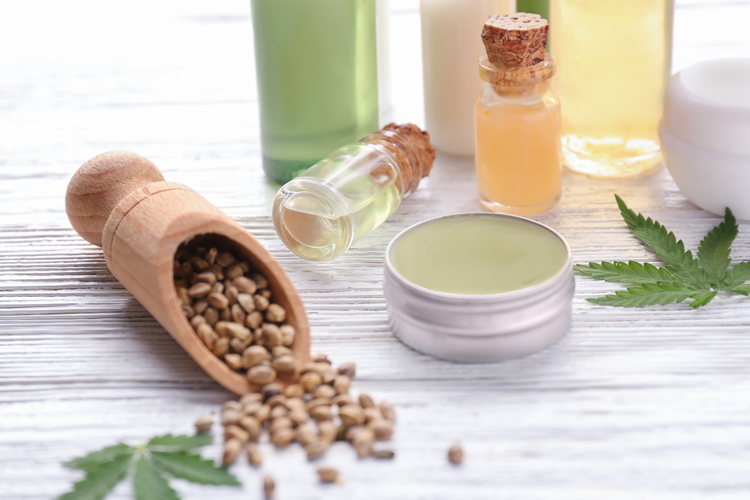 It's an exciting time to be in the cannabis industry. Marijuana is now legal for medical use in 33 states and D.C., and 10 states have legalized its recreational use. Additionally, at the end of 2018, the Farm Bill made hemp legal at the federal level. In the five years since Colorado and Washington enacted the first laws legalizing marijuana, cannabis industries have now grown to top $16 billion in value in 2019.
As more consumers explore the benefits of medical and recreational marijuana, the market has responded with a wide array of innovative products. You can vape cannabis, take it in a tincture, or ingest it in one of the many varieties of edibles, from gummy bears to truffles.
Naturally, all these new products require innovative packaging that sets them apart from their competitors. As with any product, half the business is in the branding.
Cannabis products also must meet labeling requirements as specified by regulatory bodies, which must include descriptions of the product's CBD and THC percentage, the marijuana strain, and the lab name and test number.
CBD vs. THC
Different marijuana strains define themselves by the relative amounts of cannabidiol (CBD) and tetrahydrocannabinol (THC) they contain. Both molecules have the same amount of atoms — 30 hydrogen, 21 carbon, and 2 oxygen atoms — but they differ in terms of how these atoms are assembled.
These different molecular structures make each compound attach to different receptors in the brain, leading to differing effects on users. In general, CBD has a relaxing effect and comes with many anti-anxiety benefits, whereas THC produces a more euphoric sensation. Marijuana and hemp contain both of these compounds, but marijuana has much higher THC content, whereas hemp comprises less than 0.3% THC.
CBD is growing in popularity as a muscle relaxant as well as an anti-anxiety and anti-inflammation substance. Whereas the benefits of CBD are becoming more widely known, THC too can potentially bring many medical benefits to users. THC shows promise as a pain reliever and may help ease the symptoms of glaucoma, Alzheimer's disease, and Parkinson's disease.
Legalization of Cannabis Products
Laws regarding cannabinoids are a tangle. Because marijuana remains a controlled substance by federal law, it's technically still illegal. However, many states have asserted their right to legalize it, and federal regulators don't show signs of enforcing federal marijuana law. THC, therefore, is considered legal in states that have legalized marijuana.
Additionally, since hemp was removed from the list of controlled substances by the Farm Bill, hemp-derived CBD is legal in all 50 states. (However, if the CBD comes from a marijuana plant, even if the product contains no traces of THC, the product is still subject to the laws of the state it's found in.)
Given the many promising benefits of CBD as well as its now-legal status, companies that sell it are springing up across the country. Consumers are so enthusiastic about the health and wellness benefits of CBD that economists predict the U.S. market for this product to grow to $40 billion by 2022.
Cannabis-Based Beauty Products
This excitement is also affecting the beauty industry. Because CBD can be absorbed through the skin, companies are starting to recognize CBD beauty products as their own category. We're now seeing exponential growth in CBD-infused makeups, creams, and facemasks that relax the user even as they promote healthier skincare.
One company at the forefront of CBD-infused beauty products is CBD For Life. CBD For Life beauty products includes eye serum, face cream, lip balm, and foot cream. The company extols the benefits of CBD as anti-inflammatory, antibacterial, and soothing for skin conditions such as fine lines, eczema, and acne. They even offer hair care products, and they describe CBD as a "super beauty ingredient."
High Times in the Cannabis Industry
The cannabis industry is growing at a rate not many people would have predicted before legalization. As cannabis use becomes more widely accepted, the rate of this growth will only continue to increase.
However, one potential snag in the marketing of cannabis products is how to label them. Since the laws regulating cannabis are quite complex, it's especially important for producers to ensure their labelers are fully compliant with local and state laws governing their products' use.
Cannabis-infused products not only need to state the net weight of the product, but they also must describe the marijuana strain, the percentage of THC and CBD, the date it was tested, and the lab and test number. Not to mention, they must effectively set their product apart from its competition while complying with this labyrinth of state laws.
However, strong and sustained public interest in cannabis products guarantees that the industry has plenty of wiggle room to experiment with product marketing. Cannabis companies are now enlisting the efforts of contract labeling companies across the country, giving their design teams entirely new marketing challenges to work on. And with the industry continuing to grow at an exponential rate, it's guaranteed to be a wild ride.
Image Credit: Africa Studio / Shutterstock.com
Related