Additive Manufacturing / 3D Manufacturing
Marines Investigating 3D Printing for the Battlefield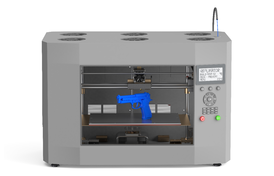 The Marine Corps is reportedly testing a mobile 3D printing lab for constructing spare parts in the field. Systems Command and the 2nd Maintenance Battalion at Camp Lejeune in North Carolina are overseeing the field evaluation of a prototype X-FAB, or expeditionary fabrication lab.
The proposed X-FAB is a collapsible, 20' x 20' shelter that would house as many as four 3D printers, design software, computer systems and a scanner. It would allow for the rapid fabrication of parts using additive manufacturing. In its current composition, it would weigh over five tons and take a team of four a couple of hours to construct. With power supplied by either a generator or landline, the structure would need to be transported in and out by flatbed truck.
The X-FAB would act as an addition to the C7912 mobile machine shop, which is equipped with traditional lathes, milling machines and other equipment. The primary advantages to the X-FAB would be a lighter load and less spare part inventory to manage. On-site, as-needed part creation could also help control costs.
Field tests will continue through the summer, with a focus on the best ways to transport the X-FAB where it's needed. It will also be interesting to see how these replacement parts can hold up and operate in the field. Although many weapons components are supposed to be interchangeable, uneven levels of wear and tear can make introducing new parts to an experienced system more complicated.
Related