Learning English at 18, Managing Operations at 26: Ibrahim Ibrahim Wins NextGen for Industry Award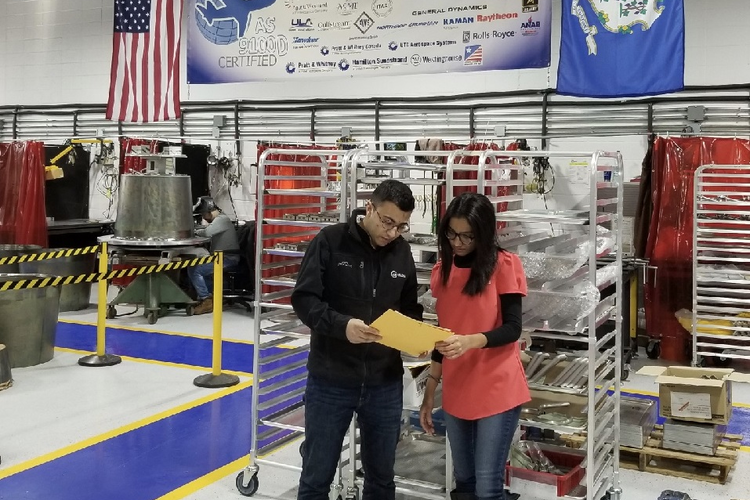 Each month, Thomas will recognize the accomplishments of the next generation of industrial leaders through the NextGen for Industry award. Nominated by their peers or managers, these young professionals are driving industry into the future with innovative new ideas, exceptional thought leadership, and meaningful contributions to their area of business.
This month, Thomas recognized Ibrahim Ibrahim of Lynn Welding in Newington, CT as the latest NextGen for Industry winner. Ibrahim currently serves as Operations Manager; at 27 years old, he is the youngest person in company history to serve in this role. Ibrahim is also one of the youngest members on the American Welding Society committee.
When Failure Is Not an Option
Originally from Egypt, Ibrahim began working with his father at the age of 15. After graduating from high school, he told his parents he wanted to go to the United States.
Ibrahim's parents told him, "If you want to do it, do it. But you have to come back successful. Don't come back with failure."
The day after his 18th birthday, Ibrahim came to the U.S. to continue his studies. "I applied [to] Central Connecticut State University for [the] English program because I wasn't able to speak English at all," he explains. "I came and learned English for six months straight."
After developing foundational language skills, Ibrahim applied to the School of Engineering and was accepted into the program.
"My first year was very tough because I was sitting in my class and I couldn't understand one single word," he says. "I had no idea what people around me were saying."
Despite these language challenges, Ibrahim continued pursuing his degree and spent every possible moment studying.
"I feel like if you want to be somewhere, you can — as long as you believe in yourself [and] you work hard," he says. In 2015, Ibrahim graduated with a bachelor's degree in electromechanical engineering technology.
Making Connections to Build Trust
After working as an intern at Lynn Welding while pursuing his degree, Ibrahim was hired full-time as a resistance welding process engineer following graduation. In that role, Ibrahim grew his department from two to 14 machines over the course of two years, while also creating his own titanium welding profile.
At 26, he was promoted to the operations manager role overseeing a 48-employee team. Initially, he faced challenges gaining the team's trust, in part because of his young age.
"In the beginning, it was definitely difficult. I can't deny that," Ibrahim admits. "But I have a very strong way of connecting with these people. I know that many people here are more knowledgeable than me. They have 20 years' experience or more.
"But I have a way of actually connecting everybody together to make a better [workplace]," he explains. "Everybody's good in their field… we have a very talented, hardworking team here. We work like a family more than [in] a corporate style."
His focus is "in actually connecting all of them together [to make] the company operate" successfully.
Creating an Effective Team
Ibrahim was nominated for the NextGen for Industry award in part because of the motivation and support he offers his team. Ibrahim himself started from the bottom of the company and worked his way up; he finds great personal satisfaction in helping others to do the same in their own careers and lives.
"The most rewarding part for me," he says, "is actually seeing people grow within the company, including myself."
The best team members are those who are "humble, loyal, and willing to learn," Ibrahim explains. When given the choice between a highly skilled yet egotistic candidate and a less experienced but humble candidate who values a collaborative, team-focused atmosphere, Ibrahim always opts for the latter.
In hiring and mentoring this type of candidate, Ibrahim says, "I like seeing them actually growing. They have a better life… they're growing in life."
He also emphasizes the importance of diversity in creating an effective, successful team.
"I feel like this is our core value…having multicultural people here," he explains. "That's what makes us great.
It doesn't matter who you are [or] what nationality you [are]," says Ibrahim. "If you are skilled enough, you work hard, you're humble and you're willing to work with everybody, then the company is going to move forward."
Developing a Career Support System
Reflecting on the skills that helped him to reach this point, Ibrahim says, "I think the most important thing is… to be driven, detail-oriented and have problem-solving skills." He advises future leaders to "be willing to approach people with kindness and to work with everybody [as] a team player."
Ibrahim also recognizes the defining impacts his colleagues and mentors have had on his career thus far.
"I had so many breaking points [when] I felt like I was not going anywhere and I was crazy to decide to move here," Ibrahim says. "But I have great friends and a great family here, at work too, that supported me. I wouldn't be a manager today or even [have] finished my degree without these people."
Related