Land Your Dream Job in the Industrial Sector With These 4 Simple Steps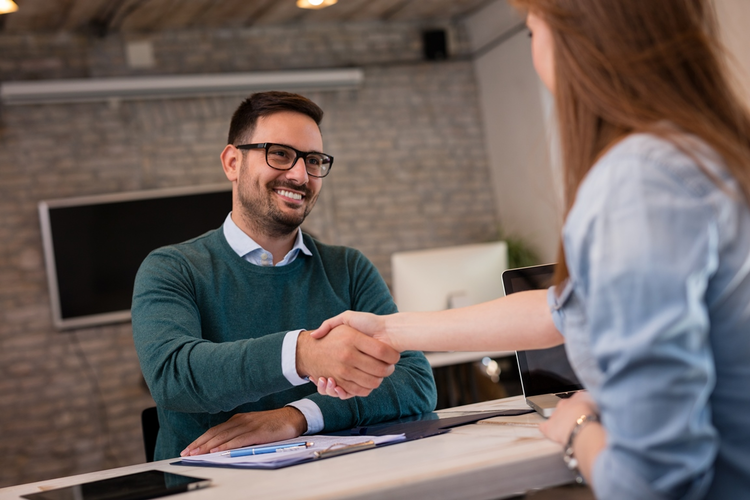 The industrial sector needs workers — and fast.
In 2018, Deloitte reported that the manufacturing industry would face a 2 million worker shortage from 2015 to 2025, with nearly 3.5 million jobs needing to be filled.
This should be good news for those seeking a new job in 2019. Yet in the National Association of Manufacturers' (NAM's) Outlook Survey, more than 68% of respondents said that the "workforce crisis" is their top concern as the skills gap continues to widen.
For job seekers looking to land a new role in industry, it's important to keep four key points in mind while navigating the job hunt and, eventually, the hiring process.
4 Steps to Score a New Job in Industry
1. Assess Your Skill Set
As technology continues to evolve, the manufacturing skills gap has taken center stage. With automation and robotics, artificial intelligence (AI), blockchain, and other advanced technologies changing the way business is done, employers are seeking individuals with skill sets that look very different than they did even a decade ago.
But for job seekers lacking some of these more tech-focused skills, or for those looking to hone their current skill set or further develop their soft skills, how can you gain the knowledge and experience you need to excel?
Recent grads and those looking to get a foot in the door should first take stock of apprenticeship, internship, and mentorship opportunities; in recent years, many states and localities, businesses, and schools across the U.S. are increasingly focused on offering hands-on educational opportunities for individuals looking to break into the world of industry. According to the U.S. Department Labor, apprenticeships saw 42% growth from 2013 to 2017.
2. Get Your Resume Noticed
Before embarking on the job hunt, it's crucial to first develop a solid understanding of the hiring process — where jobs are posted, what HR professionals and hiring managers are looking for, how they find the best candidates for their specific company needs.
Many recruitment professionals now make use of applicant tracking systems (ATS) like Google Hire. According to a Jobscan study,98% of Fortune 500 companies make use of ATS, and 66% of large companies and 35% of small organizations utilize employment software, according to a Kelly OCG survey.
These systems allow hiring professionals to choose keywords that should be included in candidates' resumes — significantly speeding up the process. Being aware of this, and ensuring that your resume contains the keywords you need to stand out, can help speed up the process for you, as well.
Kirsten Faurot, HR Senior Business Partner at Thomas, says she uses an ATS to find the right people when hiring for Thomas teams.
"With [an] ATS, I'm going to put in some keywords, and it's is going to give me only the people who have those keywords [in their resumes] — that's what I'm going to spend my time looking at," she explained.
Keeping in mind how small a window you have to get noticed, take the time to carefully review job descriptions and be sure to cater your resume to specific positions based on the requirements and skill sets outlined in the listing.
Reading up on how ATS works may also be useful, helping to ensure your resume isn't passed over. Keep the wording in your resume simple, actionable, and clear.
3. Show Your Passion
Whether writing a cover letter or responding to an inquiry from a recruiting professional (congrats!), it's crucial to show excitement for the role and express yourself in a professional, but personable, manner.
When Faurot sends initial outreach emails to candidates who have expressed interest in a role, she says one of the main factors she pays attention to is response time.
"I want to know how quickly they respond," she said. "Are they really interested?"
Keep a close eye on your inbox while engaged in the job hunt, and in your reply, make sure you express your enthusiasm for the role and thank for the recruiter for reaching out.
When you get deeper into the details of the role and why you're interested in the job, make sure you touch on specifics mentioned in the job description. Is the company looking for candidates with leadership experience? Is it imperative that you have certain manufacturing certifications or licenses? HR professionals immediately know when candidates haven't carefully read a listing; you risk starting out on the wrong foot when your answers are vague or lack enthusiasm.
Faurot also emphasizes the importance of highlighting your real passions and aspirations. On initial phone screening calls, she says she always asks candidates what they enjoy most about their current job, what they want to do in their next role, or what excited them most in their previous positions.
"It's my belief, and I know it's true from everything I've seen," she says, "that people tend to be really good at what they enjoy…That passion comes through. And that's what you want to hire!"
4. Make Sure It's a Good Match
Candidates and recruiters alike often throw around the terms "good match" and "good fit," but it's paramount that you fully understand what exactly this means or you could risk ending up in a role you don't enjoy, within a company culture that doesn't mesh with your working style.
Strong HR professionals will work to ensure that the job description is as clear as possible and gives candidates a sense of the company culture. Faurot says that she works closely with hiring managers from the very beginning to develop an accurate job description.
"I need to know everything that this person needs to do, as well as [the] kind of attributes [we] want that person to have," she explained. "Should they be more outgoing? Is the work going to be more independent — should they be more quiet in nature? We need to know all the info so we can start feeding the hiring manager the best people right away, and not waste [anyone's] time."
Try your best to get a sense of the workplace environment as early as possible — and trust your gut if something feels like a bad match. Once you've advanced to the in-person interviewing stage, see as much as you can of the machine floor, job site, or office you would be working in. Many hiring managers give workplace tours, but if they don't offer, don't be afraid to ask.
And, of course, ask relevant questions at the end of your interview that will not only show your enthusiasm and thoughtfulness but also give you a better idea of the company culture and day-to-day atmosphere.
Faurot makes sure candidates get a real sense of the team they would be working with.
"I want them to meet their [potential] colleagues. They need to get a feel for what the place is really like and whom they're going to be interacting with," she said. "You have to remember it's a two-way street; we want them to want to work here as much as we have to decide if we want them to work with us."
Closing the Deal
The job search can be long and arduous in any industry, but the good news is that it's an employees' market right now; the labor market is extremely tight, and it's only getting tighter.
Now is the time to embark on the hunt for a new gig in the industrial sector, and keeping these simple tips in mind will help you land the right job for your unique goals and needs.
Image credit: Gutesa / Shutterstock.com
Related