Labor Secretary to Start Building Apprenticeship Task Force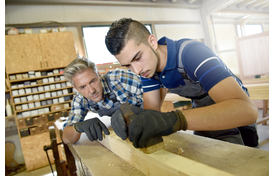 The U.S. Secretary of Labor Alexander Acosta has opened up nominations for the Task Force on Apprenticeship Expansion. According to a recent news release from the Department of Labor, creating the task force is the first step in implementing President Donald Trump's executive order to expand apprenticeships.
In June, President Trump said that apprenticeships could help fill millions of open jobs, however he was reticent to dedicate additional taxpayer money to the program.
According to the Department of Labor (DoL), the current number of active apprenticeships in the United States is 505,371.
In March, Salesforce.com CEO Marc Benioff challenged the president to create five million apprenticeships over the next five years. President Trump accepted the challenge, and his proposed budget includes a $5 million increase ($95 million overall) in spending appropriated for apprenticeships.
Secretary Acosta will chair the task force, which has been charged with identifying ways to promote apprenticeships, particularly in sectors where apprenticeship programs are currently insufficient.
The task force will create a final report for President Trump that will include:
Recommendations on federal initiatives to promote apprenticeships.
Administrative and legislative reforms that will facilitate the formation and success of apprenticeship programs.
The most effective strategies for creating industry-recognized apprenticeships.
The most effective strategies for amplifying and encouraging private-sector initiatives to promote apprenticeships.
Related