Key Industries, Locations Drive Plant Expansion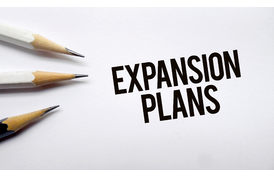 Recent investments targeting plant expansion offer a look at some of the key industries and geographies impacting U.S. manufacturing. First, there's Tsubaki Automotive, an auto supplier, that announced it will be investing $36 million at its Portland, Tennessee facility over the next five years. The 250,000-square-foot expansion is expected to create 70 new jobs.
The company manufactures drive trains and other automotive parts for GM, Ford, Toyota, Nissan and others. The new manufacturing jobs expand the reported 45,000 the state has added since 2011. Growth in the automotive sector can have wide-reaching effects, but no area has benefited more than the southeastern United States. To their credit, these states have worked hard to provide tax incentives and worker training geared towards luring carmakers and suppliers.
Just as one part of the U.S. is becoming a new focal point for one industry, another is continuing to welcome back familiar industrial ties. Recently, the Danish textile company Fibertex Personal Care announced plans to invest $60 million in its first U.S. manufacturing facility in Randolph County, North Carolina. The facility could begin operations by the end of next year and be completely on-line by December 2021. The new facility will create 145 new jobs in an area that, starting in the mid-1980s, began to deal with staggering job losses as textile manufacturing was steadily outsourced to Asia.
These jobs will include a variety of positions, including administrative personnel and technical workers. Salaries for the new positions will vary with an average projected to exceed $40,000, which is 17 percent higher than the average Randolph County salary. The company makes a variety of personal hygiene products, including diapers.
Finally, although the state of Illinois has experienced some challenges in growing its manufacturing sector, Diversifoam announced that they will adding 70,000 square feet on to their current 100,000-square foot facility in Mendota.
This expansion will lead to the facility running three shifts to handle their production of expanded and extruded polystyrene and Styrofoam for the packaging, insulation and building products industries. Officials cited an uptick in economic conditions as the stimulus for the expansion, which will create at least 20 new jobs.
Related