Key Considerations for Custom Dehumidification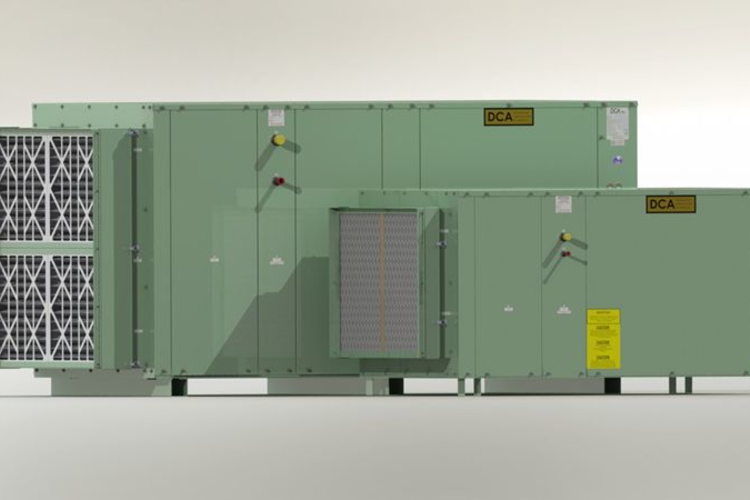 Used to remove moisture from the atmosphere, dehumidifiers are found in a wide range of residential, commercial, and industrial applications. In residential applications, dehumidifiers are typically used to prevent dampness and mold, improving air quality and allowing for easier breathing. In industrial applications, dehumidifiers are often critical components for ensuring smooth, safe, and efficient operations. For example, the printing, packaging, and food processing sectors all depend on dehumidifiers to maintain optimal levels of moisture in operating environments. Failing to employ a dehumidifier, working with the wrong type of dehumidifier, or improperly running a dehumidifier can cause significant material loss, and can often spell the difference between the success and failure of a certain process.
Selecting a Custom Dehumidifier
Choosing a dehumidifier is an important decision, and users should consider several key factors before beginning the selection process. Load requirements, plant layout, space availability, and other variables should all be carefully assessed. In some cases, it may be necessary to customize a dehumidifier to meet specific user needs and application requirements.
Dehumidifiers are offered in horizontal and vertical constructions, with the ideal type depending on the direction of the airflow. When floor space is limited, vertical dehumidifiers may be the better option, but horizontal dehumidifiers are ideal for suspension installations, preserving floor space. Horizontal models also feature a straight-through, bottom, or top discharge airflow path, which is adaptable to existing ductwork. Also, keep in mind that when working with vertical dehumidifiers, there must be enough height available underneath the dehumidifier to accommodate the duct system and any required add-ons, such as duct heaters.
Both indoor and outdoor types are available, though outdoor air dehumidifiers are always horizontal. Dehumidifiers can also be designed with rooftop curb-mounting capabilities when needed. These design options — horizontal vs. vertical, indoor vs. outdoor, and so on — must be considered within the context of the specific plant or space requiring dehumidification.
Dehumidifier Customization Options
Dehumidifiers are available with a wide range of customization options. For example, dehumidifiers can be either air-cooled or water-cooled. While air-cooled dehumidifiers are preferred in most industrial space-heating applications, water-source cooling has its own benefits.
For instance, water-source cooling is ideal for applications involving swimming pools, as the heat rejected from a dehumidifier system can be used to heat a pool. In these situations, dehumidifiers help reduce energy consumption, simultaneously maintaining a comfortable humidity level (thereby reducing the need for air conditioning) and minimizing the need for costly pool-water heating equipment. For these reasons, dehumidifiers are often found in hotels and spas. Both electric-heat and external-gas models are available to meet particular application needs.
Common Dehumidifier Applications
Dehumidifiers play an important role in many industries and applications, including:
Printing

Grinding and machining

Packaging

Food processing

Indoor grow houses

Hotel and hospitality swimming pools

Spas and therapy pool rooms

Warehouses

Homes and offices
To ensure optimal safety and reliable performance, dehumidifiers are required to meet the specific standards and guidelines of the industry at hand.
Selecting the Right Dehumidifier
It's critical to partner with a well-respected, knowledgeable industry leader who can assist in the often complex dehumidifier selection process. Weigh your options carefully, and ensure your partner is carefully assessing all of your specific requirements. A reliable supplier will be able to offer various custom options to fit specialized application needs, and will provide expert support as needed to ensure optimal performance and reliability.
Resources:
Image Credit: Dehumiidifier Corporation of America (DCA)
Related