Is a Professional Engineer License Worth It?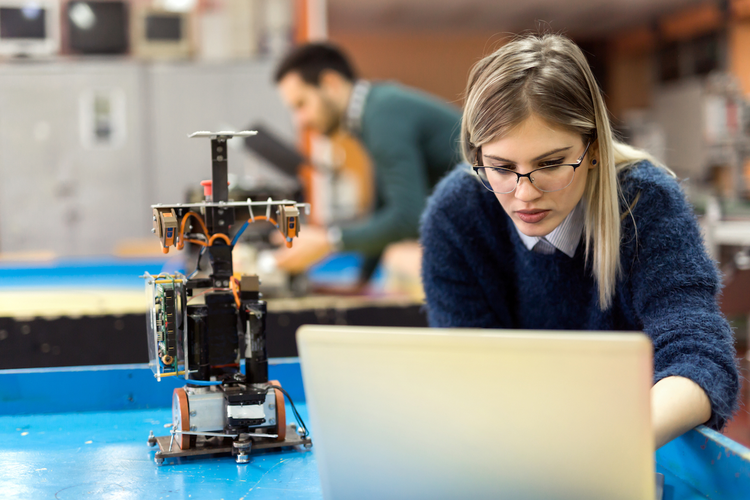 In today's Industry 4.0 workforce, engineering has taken center stage. In order to get the most out of a career in engineering, though, it's important to thoroughly consider all education and certification options, including whether to obtain a Professional Engineering (PE) certification.
Many of the young engineering professionals who will enter the future workforce — especially engineering students about to graduate — face this decision. Both choices present pros and cons; on one hand, a PE license enables engineering professionals to reach a more advanced career level, but on the other hand, it's a difficult and time-consuming process.
What Is a PE?
A Professional Engineering license is a certification that demonstrates an engineer's adherence to a higher level of standards. Prior to 1907, proof of skill and proficiency was not required for individuals to work as engineers, thus putting public welfare, health, and safety at risk.
The first engineering licensure law was passed in Wyoming at this time, ushering in a new era of engineering standards. Today, Professional Engineer certifications are highly respected, and sometimes a necessity.
Is a PE License Worth It?
There are many benefits of becoming a PE engineer. Considered the highest standard of competence for the engineering profession, Professional Engineering certification not only raises one's stature in the field, but also shows that the individual has higher levels of authority and responsibility.
Furthermore, because the requirements for earning PE status are stringent, and companies often don't require a PE license for employment, not all engineers become licensed or feel a need to. But in addition to earning more respect among peers and potential clients while bringing about a personal sense of achievement, there are a number of practical career options that are not always available to non-licensed engineers.
Professional Engineer Vs. Engineer
Having a Professional Engineering license shows that a candidate has met all the standards of the profession and, especially for fields where the PE is preferred but not required, sets the individual apart from others.
For example, only a licensed engineer may prepare, sign, seal, and submit engineering plans and drawings to a public authority for approval. With these responsibilities come more authority and greater earning potential.
Why Become a Professional Engineer?
Earning a Professional Engineer license also allows a professional engineer to become an independent consultant, government engineer, or educator. For some career ventures, such as consulting, owning an engineering firm, or managing a public works project, it is a legal requirement to work with an engineer with PE designation.
Moreover, many federal, state, and municipal agencies now require that higher-level engineering positions be filled only by licensed professional engineers. Similarly, in the education world, many states are now requiring that engineering teachers be licensed.
Professional Engineer Salary
In addition to enhanced career benefits options, data indicates that, on average, PEs tend to earn more than their non-licensed counterparts. According to a 2017 survey conducted by the American Society of Mechanical Engineers (ASME), mechanical engineers with a PE license earn a median income of $133,000, almost $16,000 more than the median salary of unlicensed engineers.
How to Become a PE
Although there are many benefits of a PE license, many of which can greatly advance an engineer's career, pursuing licensure requires a lot of additional time and effort, which can be overwhelming considering the investment involved in earning an engineering degree in the first place.
While requirements for Professional Engineer licenses differ on a statewide basis, with a state board determining requirements and procedures, the process generally boils down to the completion of four steps:
After completing a four-year college degree from an ABET-accredited engineering school, candidates must become an engineer intern (EI) or engineer-in-training (EIT) by passing the Fundamentals of Engineering (FE) exam. In most states, this is an eight-hour exam that tests applicants on their knowledge of basic engineering principles.

Successfully becoming an EI or EIT proves that an individual has mastered crucial engineering concepts. Engineering students can opt to take the FE exam prior to graduating, but cannot be considered an EI or EIT until they receive their degree. Whether you're in college or already graduated, there are many resources available for exam preparation.

After successfully passing the exam, candidates must demonstrate qualifying engineering experience by apprenticing under a PE for four years. To be considered a "qualifying experience," such engineering experience must meet specific criteria.

Furthermore, the work not only needs to demonstrate to the state engineering licensing board that the applicant is a technically skilled engineer, but also that the applicant displays a wide range of professional characteristics, such as independent decision-making and personal accountability in design and applications.

Since each state has their own licensure requirements, applicants must learn about their specific state's PE license requirements. Each state licensing board has a website that will provide the necessary information.

Finally, after accumulating the years-long qualifying engineering experience, in most cases, the final step in obtaining PE license is successfully completing the Principles and Practice of Engineering (PE) exam in the candidate's state.

The intensive eight-hour exam tests the candidate's ability to practice competently in a particular engineering discipline. Specialties range from industrial engineering to nuclear engineering to multiple fields in civil or mechanical engineering.
Why Become a Professional Engineer?
For dedicated PEs, earning a license is only the beginning, as many states require these professionals to maintain and improve upon their skills with continuing education and professional development opportunities.
Although the road to obtaining a PE license is long, intense, and difficult, and the maintenance of it is a lifelong commitment, this certification offers engineers a slew of valuable opportunities that would otherwise be out of reach.
Image credit: nd3000 / Shutterstock.com
Related