Internet of Tomatoes Teaches Students Smart Farming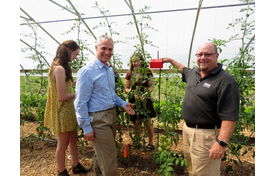 The Internet of Things (IoT) continues to transform the manufacturing industry in many ways. However, a lesser known initiative, the Internet of Tomatoes from Analog Devices, has taken the power of IoT technology and focused it on smart agriculture.
This week, Analog Devices partnered with The Cornucopia Project and ripe.io on a new STEM initiative that will help educate students at ConVal Regional High School in Peterborough, NH - as well as local farmers - on new agricultural technology.
The Cornucopia Project is a NH-based non-profit that provides garden and agricultural programs to students; and ripe.io is a company that has created blockchain technology to provide farm-to-fork insight on the produce supply chain.
The new initiative shows student and local farmers how to use IoT and blockchain technologies to track the conditions and movement of produce to make more informed decisions that will help improve quality, yields, and profitability.
"We're in the business of growing food," said Cornucopia Project Executive Director Karen Hatcher. "But we're also growing our community by teaching our kids."
Analog Devices will be providing technical training (and helped fund the project with a $10,000 contribution), but it's also supplying a prototype version of its crop-monitoring solution that can measure environmental factors that help farmers make decisions related to irrigation, fertilization, pest management, and harvesting.
The prototype is a sensor-to-cloud IoT solution that enables near-real-time monitoring combined with a near-infrared miniaturized spectrometer that conducts non-destructive analysis of food quality.
"This project expands on our 'Internet of Tomatoes' program which empowers farmers to make better decisions throughout the growing cycle, improving quality, economic, and environmental outcomes," said Kevin Carlin, vice president, Automation, Energy and Sensors for Analog Devices, in a press release. "Our crop monitoring solution will provide reliable and precise information to student farmers and local farmers so they can grow healthier, fresher, better tasting produce."
Related