HP and Ikea Join NextWave to Reduce Plastic Waste in Oceans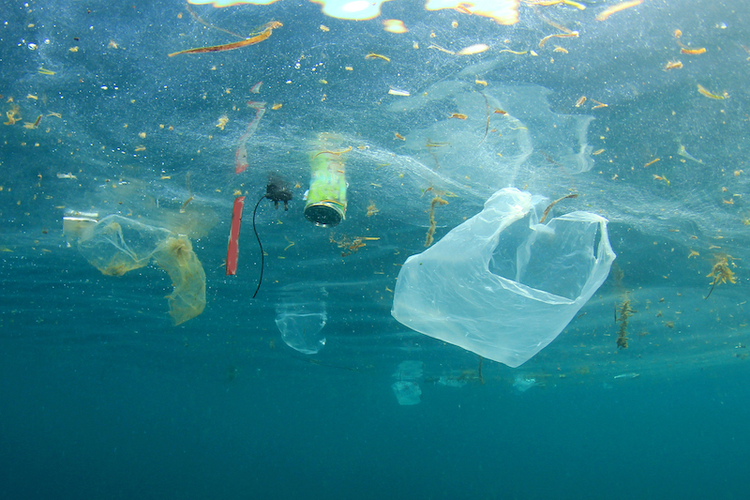 It's a familiar scene: You're walking down the beach, see a plastic bottle, and keep walking. You probably don't give it much thought. Maybe you shake your head. Or maybe you do stop to pick it up and deposit it in a trashcan if there's one nearby. But what if there were enough plastic bottles to form a mass the size of Texas, floating out in the ocean, destined to wash ashore on that same beach where you spend your vacation?
That's the environmental dilemma now being faced by various countries around the world, including the United States, Haiti, and the Dominican Republic. Scientists estimate that over 1.8 trillion pieces of garbage, known as the Great Pacific Garbage Patch, are floating between Hawaii and California. The amount of waste in the Patch is the equivalent of 250 pieces of trash for every human on earth.
How do you go about cleaning up such a massive amount of waste? You bring together some of the largest corporations on Earth, set on proving their commitment to sustainability in partnership with science-based organizations working toward environmental renewal.
Next, you seek out unique business solutions to solve the problem, focusing on how plastics are used and discarded within the supply chain.
HP and Ikea Join Forces
HP and Ikea, for example, have recently joined NextWave, a consortium of corporations that have committed to "decrease the volume of plastic and nylon litter and waste before it enters the ocean. The members of NextWave commit to demonstrating to other companies the commercial viability and advantages of integrating ocean-bound plastics into their supply chains in the context of heightened consumer, stakeholder, and policy-maker awareness of the environmental impacts of marine plastic."
Companies and organizations currently participating in NextWave include Dell and various scientific institutions. A partnership has also been established with the UN Environment working group. Partners of NextWave are committed to reducing marine waste through the integration of ocean-bound plastics into the supply chain, and, therefore, into final products. Involved parties are also committing to identifying opportunities to reduce source plastics from operations and supply chains. Whether that means eliminating plastic straws or cutting down on the use of plastics in shipping and receiving operations, corporate entities are investigating all options to prevent an increase in marine-bound plastics.
HP, in particular, has been a leader in the world of recycling, creating a toner recycling program in 2000. According to HP, the company has recycled over 199 million pounds of plastics — the equivalent of 5,000 tractor-trailer loads — into toner cartridges. In 2016, HP joined the First Mile Coalition to address the growing problem of marine plastics in the waters surrounding Haiti. To date, the program has recycled over 550,000 pounds of plastic while creating 600 income opportunities for adults in the area, diverting more than 12 million bottles to be recycled into HP original ink cartridges.
Ikea, meanwhile, announced earlier this year that the company was committing to the removal of all single-use plastics by 2020, and is taking aggressive steps to ensure that all products and packing materials are made of renewable materials by 2030. According to Ikea's sustainability manager: "The consequences of plastic pollution are severe, and Ikea is determined to contribute to its solution in a positive and proactive way. Joining NextWave gives us the opportunity to collaborate with other companies and develop a global network of ocean-bound plastic supply chains, who are learning from each other's efforts and working together to ensure business, community, and environmental benefit."
This signals a two-fold approach — preventing additional plastics from ending up in the world's oceans and also viewing existing plastics as a commodity that can be used within existing supply chains as recycled materials.
Making Waves in Environmental Responsibility
As of now, NextWave is on track to meet the goal of diverting 3 million pounds of plastics in the next five years. Participation in the program not only enhances and encourages corporate commitment to environmental sustainability, but also helps nations recover from the issues caused by plastic waste ending up on their shores. And that, surely, is something worth striving for.
Image credit: Rich Carey/Shutterstock.com
Related