How Cobots Enhance Supply Chain Operations
Welcome to Thomas Insights — every day, we publish the latest news and analysis to keep our readers up to date on what's happening in industry. Sign up here to get the day's top stories delivered straight to your inbox.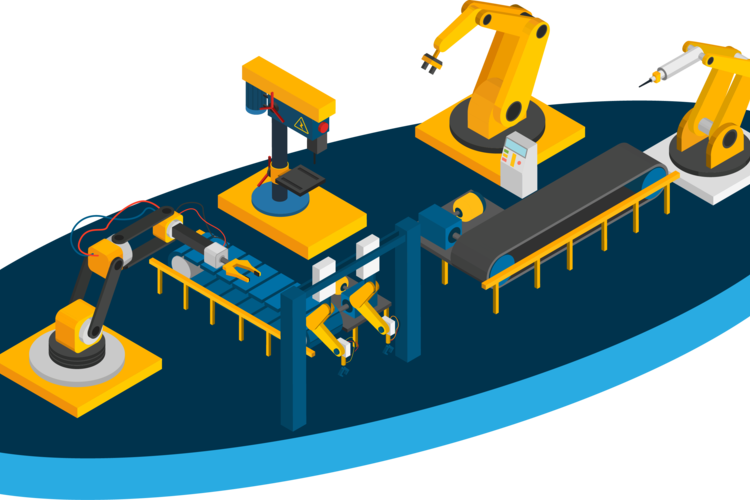 What is a Cobot?
Known formally as collaborative robots, cobots are used alongside humans in industrial settings to help workers speed up production and improve efficiency. These robots aren't taking over the human role via automation enhancements but rather supporting the worker and allowing them to spend their time on more creative, thoughtful tasks that require human input.
Although cobots represent just 3% of robot sales today, the International Federation of Robots projects cobot sales to reach 34% of the robots market by 2025. Likewise, ABI Research expected the collaborative robotics sector to increase roughly tenfold between 2015 and 2020 to surpass $1 billion.
The cobot is more of an assistant to the human worker; a robotic arm, for instance, can handle greater weights, work at higher speed, or move at angles humans can't replicate. The cobot performs specific tasks that can be too complex, precise, dangerous, or difficult for the person to accomplish alone. Humans remain necessary, but the cobot can bring many added benefits to the process by working alongside them.
Cobots in the Supply Chain
The significant increase in the use of cobots reflects several factors. These include:
Ease of implementation (compared to robots)
Accessibility of software to program cobots
Ability to do things in real-time and at scale
Freeing up humans for more high-value tasks
A common application for cobots is pick-to-cart processes. Jerome Dubois, the co-CEO at 6 River Systems, spoke at eft's 3PL & Supply Chain Summit in 2018 about the increased productivity of cobots. He suggested humans can pick 90 units per hour, but with the cobots the rate jumped to 200 units per hour. The process is enhanced as the cobots:
Save associate travel time between product zones
Cluster items for delivery to associates
Allow for hand-free packing as the associate doesn't need a scanner
With increased productivity and a reduction in packing errors, the cobot is being embraced as a flexible tool to help combat the skills shortage among warehouse workers.
DHL is another business using cobots in one of its facilities to handle heavy parcels and reduce human travel time. "Robots are bringing pickers to the next level," Adrian Kumar, vice president, solutions design North America, at DHL told Robotics Business Review.
Other areas looking at incorporating cobots include:
Woodworkers getting a break from the tedium of sanding
Dairy farms using cobots to prepare cows for milking
Farmers using cobots to harvest hydroponic or cannabis crops
German audio equipment company beyerdynamic uses cobots to spray glue onto its headphone speakers. Handling and spraying the speakers was "not safe or stable" for the human worker, but with cobots working in conjunction with humans, output increased 50% with a corresponding increase in quality.
Making the pilot project voluntary for human workers helped with the introduction of the cobots into the work environment, said manufacturing engineer Jörg Lang. At the same time, the company has benefitted from letting its employees, "focus on tasks where the human work value is high."
Related