How a Drone-Electric Van Combo Could Improve Last-Mile Delivery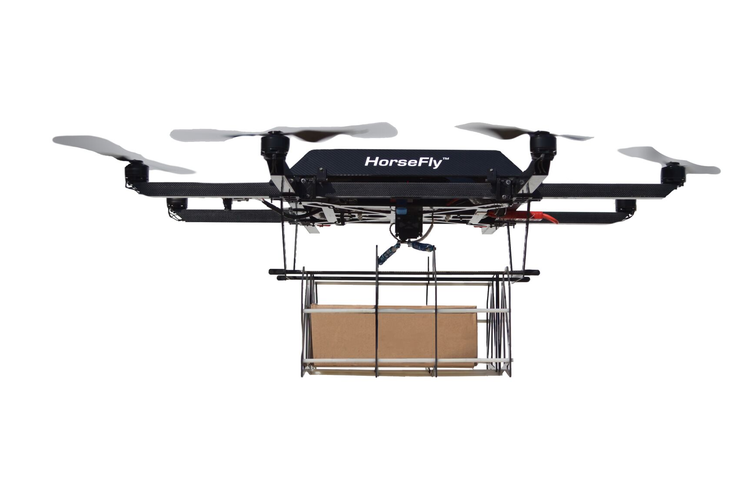 Cincinnati, Ohio-based Workhorse Group, Inc. recently unveiled an interesting solution for speeding-up the final stage of deliveries. The company has teamed their N-Gen electric van and HorseFly drone, which can launch from the roof of the delivery van. The N-Gen van features a lightweight composite body, a range of 100 miles on a single charge, and an optional gasoline range extender that can add 75 miles to the vehicle's route.
A 105" roof height hopes to maximize cargo space, and the built-in Workhorse Metron telematics system tracks van and drone performance to help ensure efficient delivery. The HorseFly Unmanned Aerial Vehicle Package Delivery System is a carbon-fiber octocopter drone meant to operate within the N-Gen driver's line of sight.
The truck and drone system, which is patent-pending, is compliant with all current FAA regulations and can carry packages whose weight is up to 10 pounds at a cost of approximately $.03 per mile. A partnership with the national logistics and fleet management company Ryder System, Inc. made Ryder the primary distributor and provider of vehicle support in North America.
We recently had the chance to talk with Workhorse CEO Stephen Burns on how he feels the use of these technologies could impact the industrial supply chain.
Jeff Reinke: There are a lot of companies in the electric vehicle and drone marketplaces - what drew you to this industry segment?
Stephen Burns: It's exciting to be in an emerging and dynamic field like electric vehicles and drones. There's a lot of innovation going on in transportation broadly, and in last-mile delivery specifically, so it's rewarding to be part of a company in Workhorse that's at the forefront of that change.
JR: What makes your offerings in this area unique or different?
SB: One of the biggest differentiators is our focus on fleets. We didn't set out to design electric vehicles. We set out to design the best all-around fleet vehicles, and in our conversations with fleet managers, drivers, engineers, and others came to determine that the best vehicle is an electric vehicle. The integrated range extender ensures you'll always be able to get where you need to go, eliminating range anxiety for fleets.
JR: The use of delivery drones is a paradigm shift for both the operator and customer. How will you get people to embrace a robotic aircraft vs. a live person?
SB: We don't view it that way at all. A delivery drone launched from a truck makes the driver's job easier and eliminates the associated wear and tear. If a drone can make one delivery while the driver is on his or her way to the next delivery, you're increasing efficiency, reducing fuel use, and helping drivers get more done in the same amount of time.
JR: What other technologies do you see having an impact on logistics and supply chain management – in the long and short term?
SB: Increased computing power and "big data" have helped speed up the logistics side, but what's so exciting about being in the position Workhorse is in right now is we're at the forefront of some of the biggest changes the transportation sector has seen since the invention of the automobile. This is a reinvention of it. We're looking at trucks like the all-electric Workhorse E-100 which achieves 37.5 MPGe while reducing emissions by 75 percent. Fleet electrification has been a dream for a long time, but the technology hasn't been workable until now.
For more information on Workhorse and its electric delivery vehicles, work trucks, and drones go to www.workhorse.com.
Related