Additive Manufacturing / 3D Manufacturing
Have Yourself a 3D Printed Christmas
Welcome to Thomas Insights — every day, we publish the latest news and analysis to keep our readers up to date on what's happening in industry. Sign up here to get the day's top stories delivered straight to your inbox.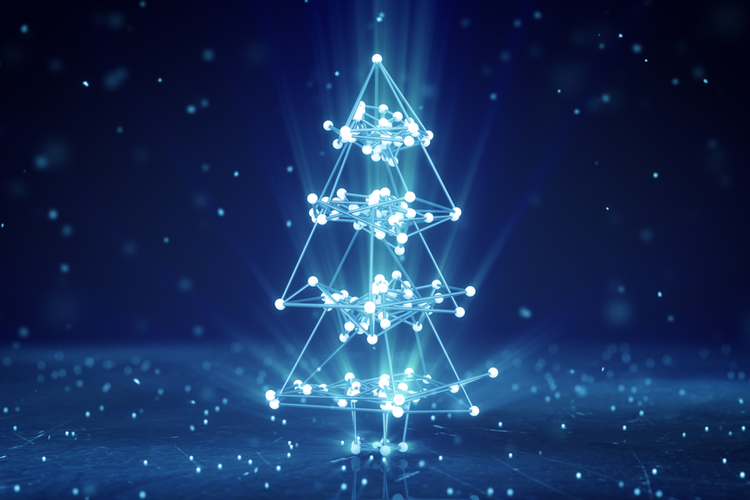 Caroling, sleigh riding, festive cookie eating, and...3D printing?
Christmas has a long list of naughty and nice traditions, some of which, like Christmas trees bedecked in dazzling lights, have been established for centuries, and others, such as the cheekily cute Elf on the Shelf, only joined the festivities in the 21st century.
While many older traditions have endured, it hasn't stopped new traditions from being incorporated into the yuletide pantheon. 3D printing, which has made its mark not only as an industrial tool, but also as a cultural talking point, could very well be the next Christmas tradition.
3D Printed Christmas Trees
Christmas trees are one of the most central and beloved traditions of the holiday season. In spite of this, many worry about the sustainability issues regarding both real and artificial trees. However, a 3D printed tree called "Arboretum 2.0," demonstrates how additive manufacturing could provide the ultimate solution.
These limited edition Christmas trees, manufactured by London-based tech company AI Build, were printed using only recycled waste plastic. Employing a lattice matrix to create structure and texture, the tree swirls upwards into a modern interpretation of a traditional Christmas tree shape.
3D Printed Ornaments
Small and delicate, festive Christmas ornaments are an obvious 3D printing winner. Not only can digital fabrication create beautiful, unique trinkets, it also serves as a fun holiday craft project for those with their own 3D printers.
Some, like German designer David Münscher, have used 3D printing to take Christmas ornaments to the next level. Münscher, whose eye for aesthetics has yielded various products ranging from artistic lamp shades to ultra modern furniture, recently released a series of captivating 3D printed ornaments inspired by "the fluent motion of classic dance moves and dance photography."
3D Printed Toys
There are currently a number of 3D printers available on the market for the average consumer, but few have as much whimsy and playfulness as the Toybox. Equipped with a catalog stocked with standard designs, the Toybox is capable of printing a wide variety of toys, including figurines, castles, unicorns, and balls. It can also print custom projects designed by the user.
While this 3D printer isn't a standard in every playroom yet, it does present an interesting idea that, instead of buying new toys, kids and youthful adults can print novelty playthings either for themselves or to give as gifts.
3D Printed Stop Motion Animation
While maybe not the most obvious Christmas tradition, stop motion animation is a classic element of modern holiday culture. Movies such as Rudolph the Red-Nosed Reindeer, Santa Claus is Comin' to Town, and even the darkly festive Nightmare Before Christmas, are all considered classic Christmas films that many people make sure to watch every year.
Although stop motion animation isn't as popular as it once was, a few production companies do still create these dynamic, quirky types of films, and some of them are turning to 3D printing to not only make the process easier but to further enhance the final product.
Portland-based production company LAIKA, known for films such as Coraline, The Boxtrolls, and Kubo and the Two Strings, utilizes a diverse range of high-tech equipment in the creation of their animations, including 3D printing. Using hand-sculpted originals, LAIKA scans their puppets into a computer, which then prints out several versions of the puppet. LAIKA uses these multiple versions to create the magic of stop motion animation.
LAIKA hasn't made a Christmas movie yet, but considering stop motion animation and Christmas go together like Santa's cookies and milk, it will be fun to see if they ever produce the first feature-length 3D printed Christmas movie.
May All Your Christmases be 3D Printed
Imagine exchanging 3D printed gifts with friends and families while enjoying 3D printed candies, and admiring a home full of 3D printed decorations. Just as it has changed many applications and industries, 3D printing has the potential to add an entirely new dimension to classic Christmas traditions.
Image Credit: gonin/Shutterstock.com
Related